Before the pandemic, Zoom was just another technology startup. After the initial phases of Covid-19 closed public venues and meetings, Zoom became the saving grace for numerous enterprises that wanted and needed to continue functioning without in-person contact. The pandemic has become a kind of black hole for clear conceptions of "how it used to be." There were, indeed, technological answers for remote meetings two and three decades ago. The early challenges of marrying physical technology from disparate sources (routers, servers, video, and audio recorders) to available or freshly coded software have been overcome on the pathway to our current remote connection capabilities for mobile connectivity. This connectivity allows any modern digital device to be utilized to join in a collaborative community.
The same holds true for mobile printing. The difficulties for an employee "on the road" away from their home office can be overlooked until they are confronted in reality, but they are numerous. Printing confidential papers at the "office services" cubicle of a hotel or motel leaves that print destination open to the scrutiny of motel employees and fellow guests.
It also leaves that unsecured transmission to that printer available for interception anywhere along its transmission path.
Providing secure transmission to secured printers back at the office is one of the crucial contributions that CBS (Coastal Business Services) can provide for your company. Mobile print security is as important as mobile print accessibility. And CBS can provide that too, whether through direct mobile printing configurations or through collaborative cloud printing.
Another bonus contribution from CBS is the constant updating of firmware and software for their printing devices, assuring that they are all capable of printing from and to any source and destination.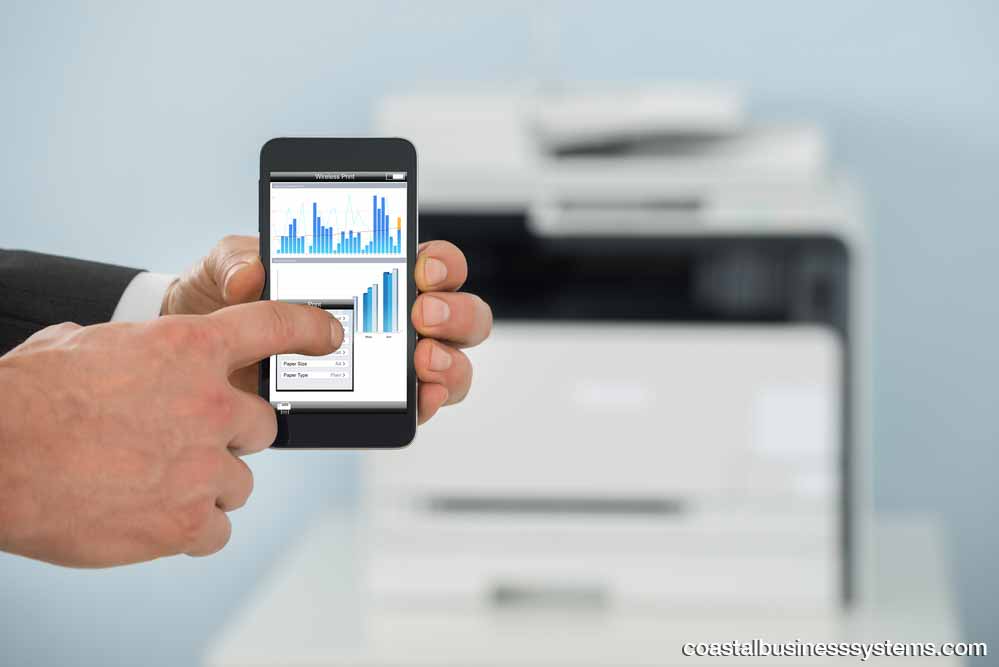 Much like property managers who hire pool and landscape maintenance providers to contribute to the property's complete care, rather than expecting one on-site maintenance guy to have the time, equipment, and technical expertise to provide an acceptable level of results. Business owners of any kind of small-to-medium enterprise are wise to consider outsourcing the technical office operations that are crucial to but not integral to the company's endeavors. Every company wants a reputation as a service and product provider with excellence in every aspect. For the company that does not have the budget or payroll for an IT department (and often even then), the best solution is a contracted partner whose sole focus and expertise runs the gamut. Allowing them to manage everything from print service to remote connectivity solutions, collaborative platforms, and software. This is the ideal solution for infusing office operations – whether in-office, at-home, or on-the-road – with that requisite excellence. A happy and productive hybrid workforce is essential to optimize the company's output, whatever it may be. Employees who can focus on their assigned and trained capabilities without the distraction of learning printer operations and maintenance definitely fall into that "happy and productive" cohort.
The printing equipment offered by CBS as part of an upgrade in the course of a shift to managed print service, you can rest assured that it will meet all expectations.
Not only will it meet expectations for now but also for the future – in terms of scalability, security, simplicity, sustainability, and overall superiority. One more positive attribute to add to that list is 'seamless.' Any employee printing from their phone, tablet, or laptop, can print to a remote printer with the same ease and confidence as if it were in their cubicle back in the office. That is a win-win for all involved.