Over time, the feasibility and popularity of the hybrid workstyle have arisen the necessity for improved and secure access to the cloud from all office technology in the workplace. One of the key benefits of all this is it means employees can no longer be tethered to their workstations, and this is also the same for their work files. Sharp has been on the frontlines of releasing many groundbreaking smart office technology that seamlessly fits a variety of workstyles, including the hybrid sort. Sharp's latest A3 Advanced and Essential Series of MFPs deliver frictionless and secure access to all manner of enterprise workflows from virtually anywhere the user might be presently located. The models of this new series are widely noted for ticking off all the right buttons when it comes to the hybrid work environment.
Access all your work files and documents from multiple locations and devices
The innovative A3 MFP series lets your team members access work data and documents from any of your company locations utilizing nearly any device they might have in mind at that particular moment.
They will be able to effortlessly scan and print work files from your Microsoft Teams connector too. Alternatively, you and your hybrid team may use other popular cloud services without in any way requiring any middleware. Also, you may leverage Sharp's proprietary Synappx Go! app to facilitate contactless print and scan jobs. This fits nicely with the emerging demands for the hybrid workplace since the advent of the COVID-19 pandemic.
You have the assurance your workplace network and sensitive business data are kept secure at all times
Sharp's A3 MFPs security and compliance features and functionalities have been purposefully built upon the many strengths of the previous models including the award-winning MX series.
It is noteworthy to state the iconic MX line bagged the Line of the Year accolade when they were released. The security features in these new printers are updated automatically to protect your MFP and the various data you and your hybrid team want to process at any given time or location.
Additionally, the A3 series' authentication protocols guarantee that your most confidential data is always safeguarded away from prying eyes. You can rest assured your MFP fleet will always comply with data protection guidelines including GDPR. These Sharp printers also provide intuitive support for security information and event management (SIEM).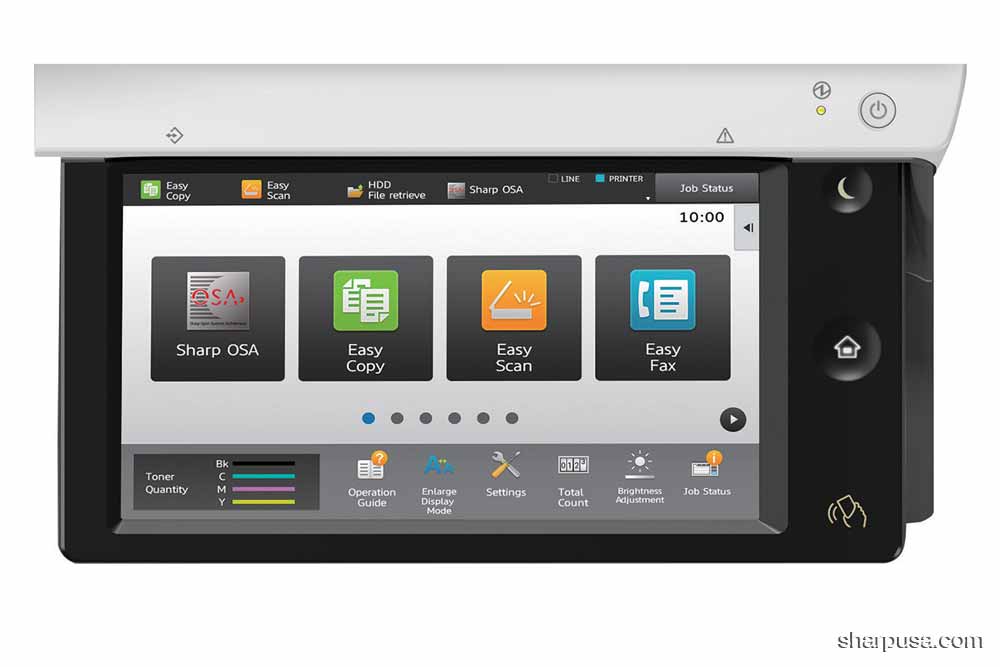 They come complete with a number of anti-malware software. This makes it immensely simple to boost the already top-notch security protocols of these machines.
Not to mention that they have been designed to be compatible with the very latest network security protocols in the market. Some of the most prominent of which are ITLS 1.3 & SMB v 3.1.1 and preinstalls root certificates. The A3 MFP series also boasts of BIOS-based security checks which prevent them from powering up should any errors or security risks be detected. Lastly, Sharp has gone out of its way to deliver automatic remote firmware updates. This guarantees that all software used by this office technology can remain upgraded with the latest versions of themselves, which in turn, will greatly ease the workload of your IT team.
Coastal Business Systems is a leading vendor of first-rate smart office technology from some of its globally-acclaimed partners including Sharp. These are up-to-the-minute devices that seamlessly support diverse work styles including the hybrid work setting and feature innovative functionalities like home office technology and touchless technology along with other intuitive Sharp printers features. We also provide some of the finest managed print services in the North Valley.