Sharp's Synappx Go platform of smart office technology has proved to be a gamechanger when it comes to its revolutionary capabilities to streamline and improve workplace efficiency, productivity, and even collaboration. Working seamlessly on both the Microsoft 365 and G-Suite platforms, this innovative office technology has been intentionally designed to support a hybrid work environment, whether in-person, from home, or even on the go. To this end, Sharp has recently expanded the Synappx Go platform by introducing the Synappx mDesk experience that is widely noted for delivering instantaneous accessibility, unparalleled ease of use and enhanced mobility – all of which the modern worker craves.
Synappx mDesk is purposely meant to completely address the surging demand among employees for versatile virtual workstyles. It effectively meets this growing need by making workplace collaboration much more productive and efficient for all office workers regardless of where they execute their day-to-day duties. If data from a recent poll conducted by Global Workplace Analytics is to be believed, 75 million American employees have been working at home since the COVID-19 pandemic struck. Also, it is forecasted that at least 25% of American workers will be working from home on multiple days each week by the time 2021 comes to a close. Most of the employees who were polled believe they can achieve greater work success remotely if their employers empowered them with more home office technology tools and resources.
However, a hybrid work environment has both its joys as well as its pains. One of the major of the latter is definitely the inevitable complexity which revolves around launching and attending numerous virtual meetings on a daily basis. This is where Sharp's Synappx mDesk experience comes into the picture. Thanks to mDesk, workers may launch and effectively manage web conferences with unmatched ease all from one interface despite where they are currently located or on whatever device they use. Synappx mDesk enhances the Synappx Meeting experience in the virtual workplace through its ability to simplify web conferences in order to improve employee collaborative creativity. As such, users are furnished with a handy snapshot of all their day-to-day scheduled tasks and have the choice to launch virtual meetings at the touch of a button. Let us now take a brief look at some of the most notable features and functionalities of Sharp's Synappx mDesk experience.
Synappx mDesk boosts top-notch virtual meetings management efficiency
Synappx mDesk facilitates real-time collaboration capabilities for both remote and in-person teams and ensures virtual meetings start right on time all the time. Users are able to keep abreast with all the meetings they are scheduled to attend via the Synappx Meeting launcher at any given moment.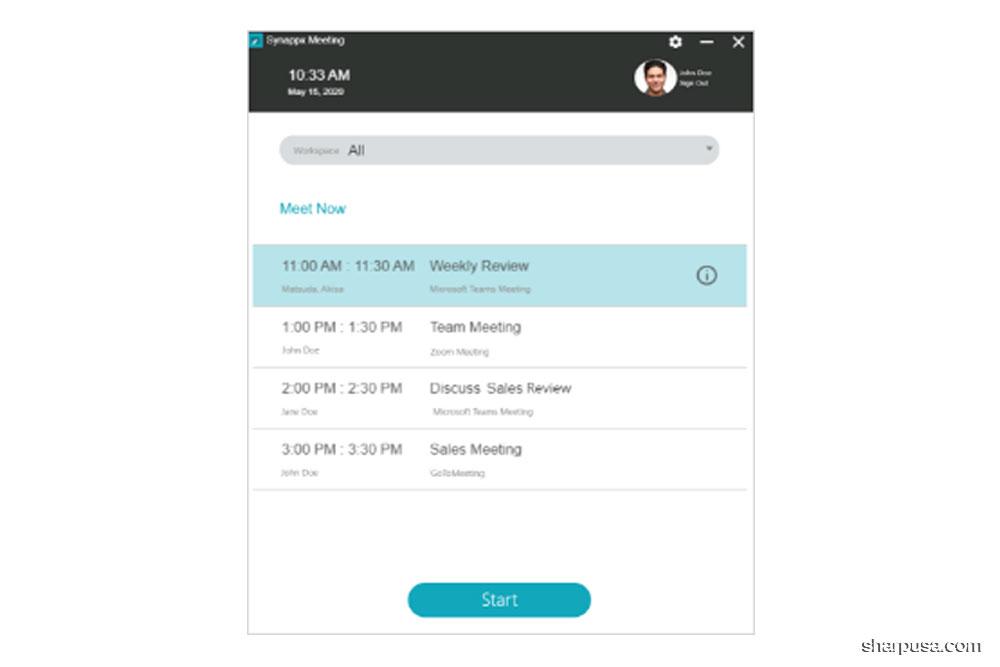 This goes a long way in making sure they never miss meeting no matter how they might be occupied with their daily work activities. At the same time, with the Synappx mDesk experience, employees may initiate web conferences with a single click.
This totally does away with the need for URLs or meeting ID authentication in apps such as Zoom, Google Meet, and Microsoft Teams. Lastly, the mDesk experience comes complete with a countdown timer that materializes prior to the start of scheduled meetings. In turn, this enables meeting organizers and attendees to get to meetings on time.
Synappx mDesk provides top of the class virtual meeting experience
Over the course of web conferences, the Synappx Meeting Assistant app delivers easy and convenient access to a variety of meeting materials and resources including attachments, files stored in the cloud.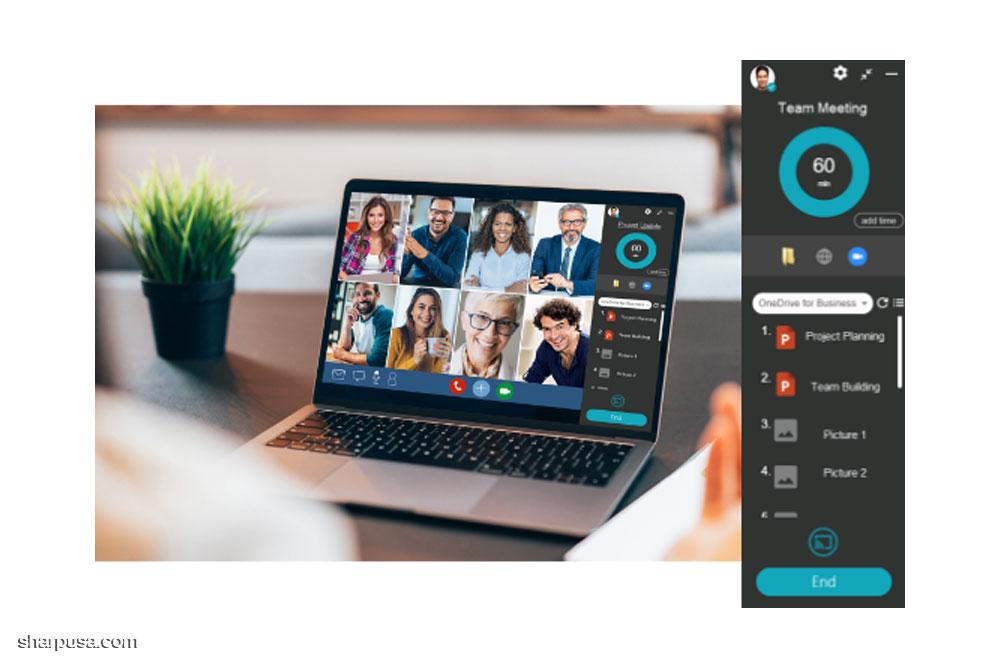 There is also an agenda tracking feature, a virtual timer, and even a number of shortcuts. All this can immensely improve web conference efficiency and collaboration capabilities in a manner that is highly beneficial to organizations. Once the virtual meeting is over, Synappx mDesk users may end the session with a simple click using the Synappx Meeting Assistant tool.
Synappx mDesk provides cross-platform support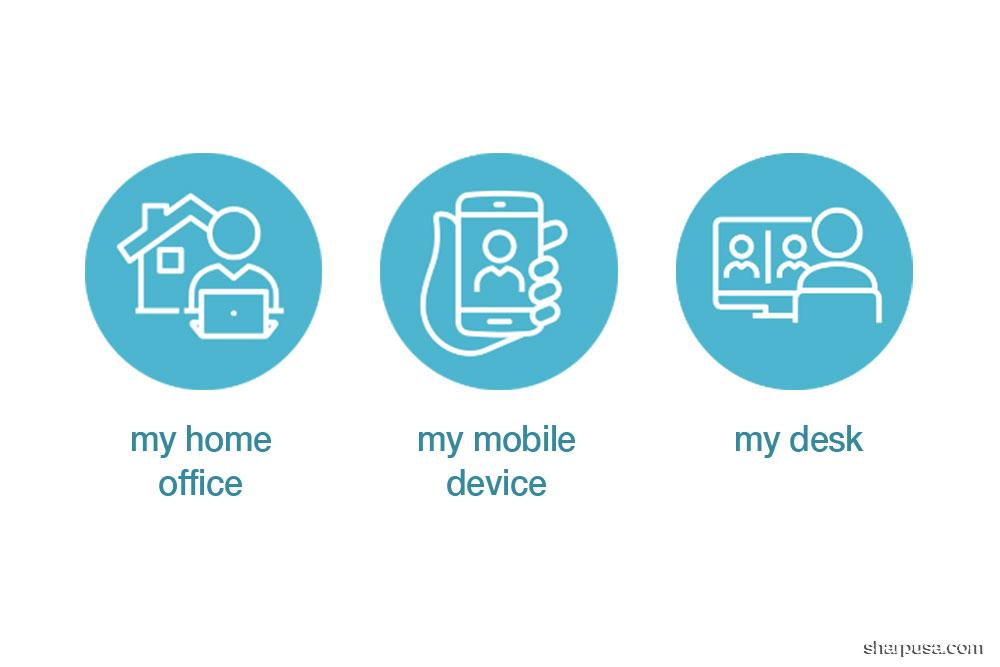 Sharp's Synappx mDesk experience offers seamless support for using diverse desktop and mobile devices platforms including iOS, Windows, Android, and even Windows Phone.
Existing Synappx Go users can obtain instant access to it by simply taking the time to download the Synappx Meeting app from either the App Store, Google Play, or Windows Store.
Coastal Business Systems is a leading managed print services provider and offers a variety of office equipment and technology that support both in-person and remote work environments. This includes cutting-edge Sharp printers and MFPs which come complete with the latest features including touchless technology to boost workplace efficiency, productivity and collaboration.