Purple Heart Cruise, A Staple Event For CEO Mike Dominick
For the third consecutive year, our owner, Mike Dominick, has been a major sponsor of the Purple Heart Cruise. The charity cruise which left Galveston, Texas on October 26, 2019, lasted for 7 days.
Purple Heart is a non-profit organization that is dedicated to improving and enhancing the lives of American Combat Wounded Veterans and their families. This annual event is hosted to give Purple Heart recipients and their families an environment to build camaraderie, share stories, gain access to counseling services and let their hair down.
As a business-solutions company serving northern California since 1981, Coastal Business Systems, Inc. values solid and long-lasting partnerships. We aim to provide the most efficient and up-to-date technology (software and hardware) to help the entire production process for businesses along the California north coast. We aim to develop a partnership with all our clients while we provide the most effective solutions for their business needs.
It has always been our mission to facilitate a seamless, hassle-free environment for our customers with premium and reliable customer service. Although we make it our duty to provide the highest quality service to our clients, our service to the nation pales in comparison to the work of those who fight and continue to fight for our great nation.
"Spending a week with these amazing people is such a humbling experience," shared CEO Mike Dominick. "They have sacrificed so much for our country and the freedoms that we enjoy, and struggle with the results of that sacrifice every day."
The 5th annual Purple Heart Cruise featured daily activities such as seminars, presentations, counseling sessions, games, etc. to uplift the spirits of the cruisers and rebuild self-confidence. It also served as a space that facilitates a sense of community among war veterans who have been injured in the line of duty, as well as among their loved ones. For some non-vet cruisers, it was an eye-opener to hear what these veterans have been through and the struggles they face.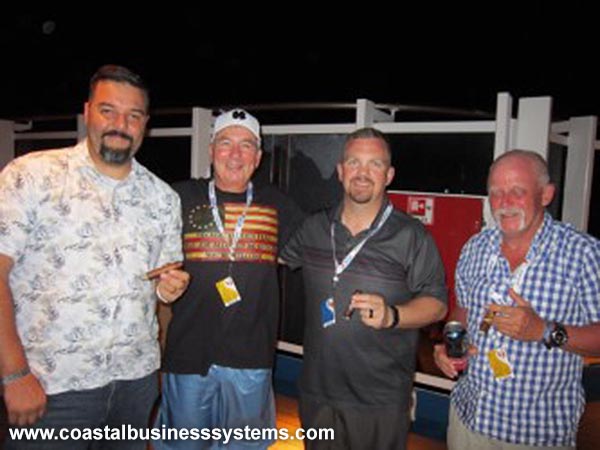 According to Dominick, the Purple Heart Cruise is an event that he will continue to support as his way of giving back. "You experience a full range of emotions during the week of the cruise, and it's truly an honor to get to know each and every one of these brave men and women. I'm happy to play my part in honoring the sacrifice you made. Thank you all for your service, and of course, I'll be back next year!"