Sharp recently unveiled 2 office technology high-speed color multifunctional printers (MFPs) dubbed the MX-7081 and the MX-8081. These copiers are widely renowned for delivering essential features and functionalities necessary for today's hyper-busy business environment. This includes advanced cloud services, multilayered security, and touchless technology operations. They also come complete with Sharp's groundbreaking easy to use touchscreen display and can support MFP voice-activated commands via Amazon's Alexa. This lets users carry out copying, scanning, and printing functions, without the need to touch the printers. Both models as well support touchless operations via Sharp's Synappx GO office technology, a mobile device app which enables the printing, copying, scanning, and release print tasks remotely from mobile devices. The MX-7081 can perform printing tasks at speeds of up to 70 pages per minute (ppm) in color or at speeds of up to 75 ppm for black & white documents. On its part, the MX-8081 can execute print jobs at speeds of up to 80ppm for both color and black & white documents.
Also, these MFPs incorporate innovative office technology that lets them boost productivity thanks to 300 sheet duplex single-pass feeders which can perform scan jobs at speeds of up to 240 images per minute. At the same time, these copiers can feed up to 150 business cards. Other notable office technology in-built in these new models include state-of-art security functionalities and Embedded Print Engine. The last of which comes in very handy to guarantee better PDF print performance and exceptional rendering accuracy. The MX7081 and MX-8081 also provide support for popular cloud apps such as Microsoft OneDrive for Business, SharePoint Online, Box, and even Google Drive thanks to Sharp's Cloud Connect functionality. Let us now take a closer look at some of the most prominent office technology features integrated into these 2 Sharp MFPs.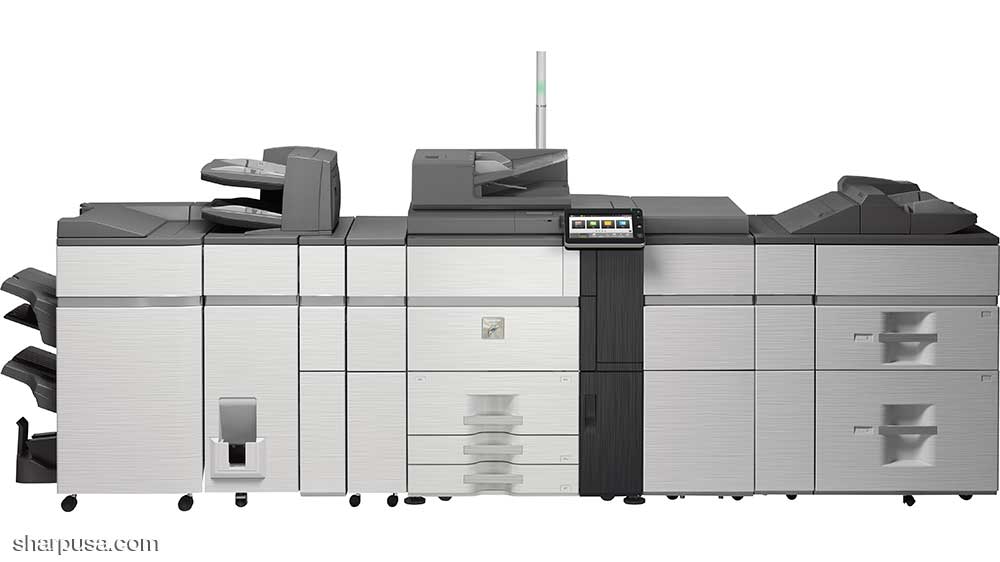 Sharp MX-7081 and MX-8081 Features
These Sharp MFP models are well noted for being extremely reliable and user-friendly copiers both in the workplace or work from home environments. Their output quality is amazing and you will always be spoilt for choices when it comes to picking finishing options. The MX-7081 and MX-8081 feature an innovative office technology customizable feature that enables different users to choose the configurations that suit their own unique requirements. They as well incorporate an exceptional ease of use which makes the creation of high-quality color documents convenient and hassle-free. As such, they can serve as a document hub that promotes optimal productivity even in the busiest of workplaces.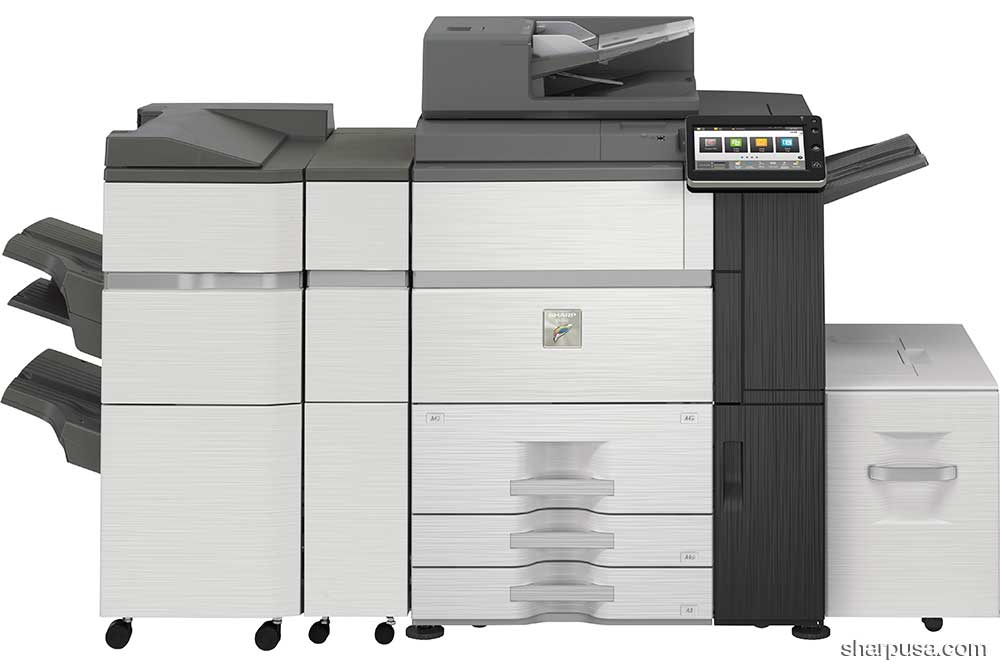 High productivity
You get to pick from diverse finishing options from saddle stitch, stapleless stapling to manual stapling. Both of these cutting-edge office technology MFPs can also effortlessly accommodate standard paper of varying sizes of up to SRA3/A3 wide (13"x 19"), custom sizes, and thickness of up to 300g/m2. On the other hand, you can feed envelopes directly to their standard paper trays. The MX-7081 and MX-8081 also come complete with business card feeders on DSPF which scan batches of up to 150 cards, and permit the creation of business card databases through the optimal character recognition (OCR) functionality.
These Sharp copiers may as well feature the optional Embedded Fiery Print Server that facilitates the stress-free management of very busy, on-demand printing environments. This particular function can prove to be invaluable for offices needing optimal processing power and high precision color control. They also integrate the print release office technology functionality that enables printouts from multiple networked MFPs. Lastly, these Sharp printers facilitate the direct printing of Microsoft Office file format documents including docx, xlsx and ptx.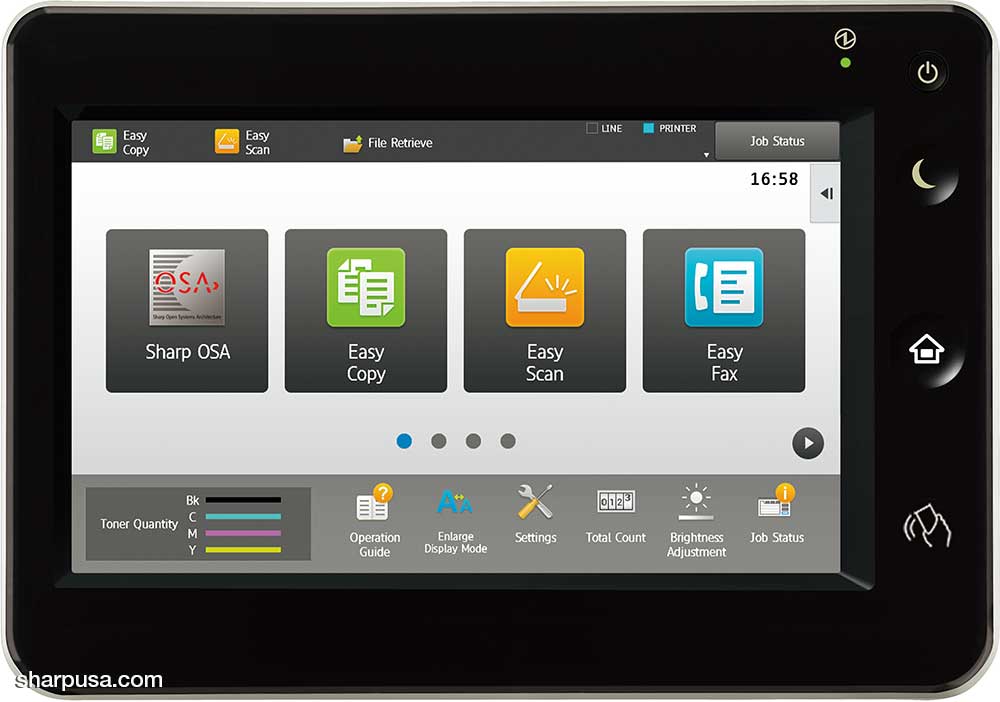 Exceptional ease of use
In the first place, the duplexing/dual single-pass document feeders (DSPFs) of these MFPs can pause operations immediately when it detects any skewed or multiple sheets being fed into them. It also notifies users once the documents placed in it are ready for scanning and even alerts them to retrieve processed documents after scanning. The MX-7081 and MX-8081 as well come complete with an office technology east UI mode that is mounted on a tiltable 10.1" color LCD touchscreen display. Finally, this display features dedicated user icons that permit rapid login to personalized operation modes.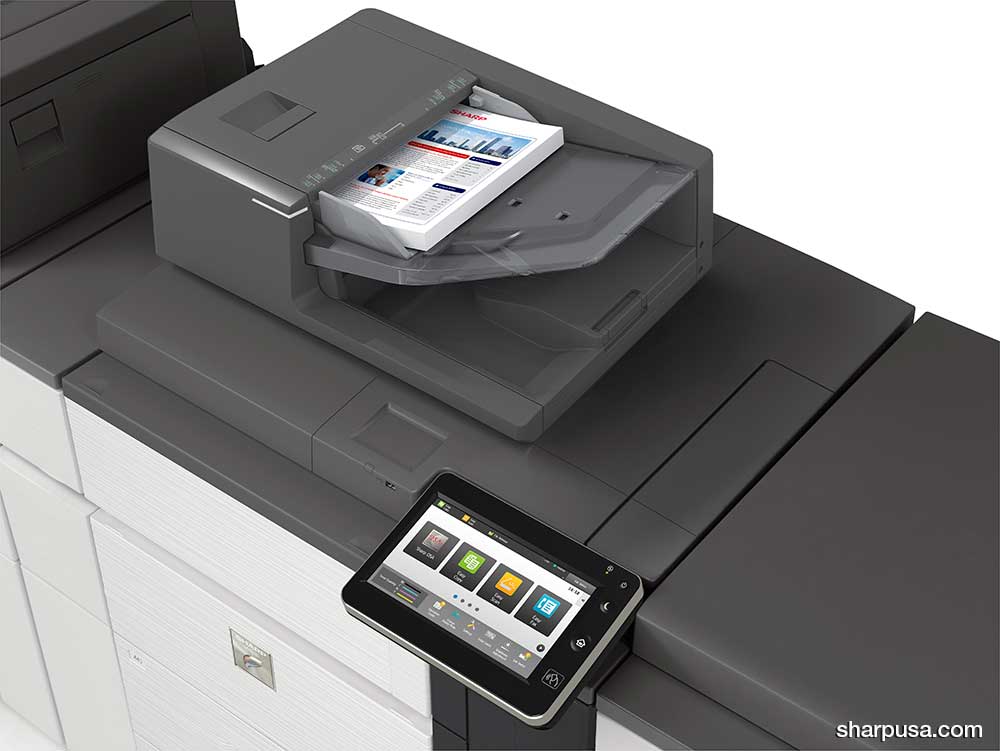 Secure information sharing
The MX-7081 and MX-8081 can accommodate up to 2 Ethernet networks at the same time. They also come with Sharp's Sharpdesk Mobile print/scan app which enables saving documents to mobile devices and even the printing of files stored on them. It is needless to mention they support a variety of mobile printing services. On the flipside, their application portal office technology functionality allows users to download and install apps in them.
These Sharp copiers also offer easy and convenient access to public cloud services through an optional single sign-on. Users can as well efficiently dispatch scanned data to GMail or Microsoft Exchange accounts. They also incorporate the optional Sharp's open system architecture (OSA) which permits seamless integration with network and cloud-based apps. Lastly, these high office technology printers possess a built-in advanced system and data protection and access control including firmware self-recovery and whitelisting.
Coastal Business Systems is a noted vendor of a wide variety of both workplace and remote work equipment including Sharp MFPs. We also deliver first-rate cost-effective and efficient managed print solutions.