Sharp recently unveiled 4 new monochrome printers as the latest addition to its business office technology product line. These 4 brand new copiers include 2 desktop MFPs and 2 single-function desktop printers. All of these Sharp printers come complete with business-level security functionalities along with compact, durable designs. Both features facilitate the much-needed reliability that is integral to the carrying out of core business operations. When it comes to office technology security, these models deliver a variety of features business establishments require to thwart an array of cybercrime threats in a markedly convenient and stress-free manner. Some of the most notable of which are IP address filtering and protocol filtering capabilities, Transport Layer Security (TLS), port control to mention just but a few.

Also, all these office technology devices feature out-of-the-box copy, print, scan, and fax capabilities all in one single package. Not to mention Cloud Connect functions. Additionally, these Sharp MFPs have been designed with in-built wireless connectivity for mobile devices such as smartphones and tablets. This facilitates hassle-free management of workflows from both PCs and mobile devices. To clearly attest to their unparalleled user-friendliness, these office technology copiers feature an in-built user guide that elaborates, in an easy-to-understand approach, how to use their various functions. Whether set in desktop or console configuration, these printers may be seamlessly utilized to suit either a home office technology or workplace environment. Well, let us now take a closer look at some of the innovative and intuitive features and functionalities of these 4 new Sharp copiers.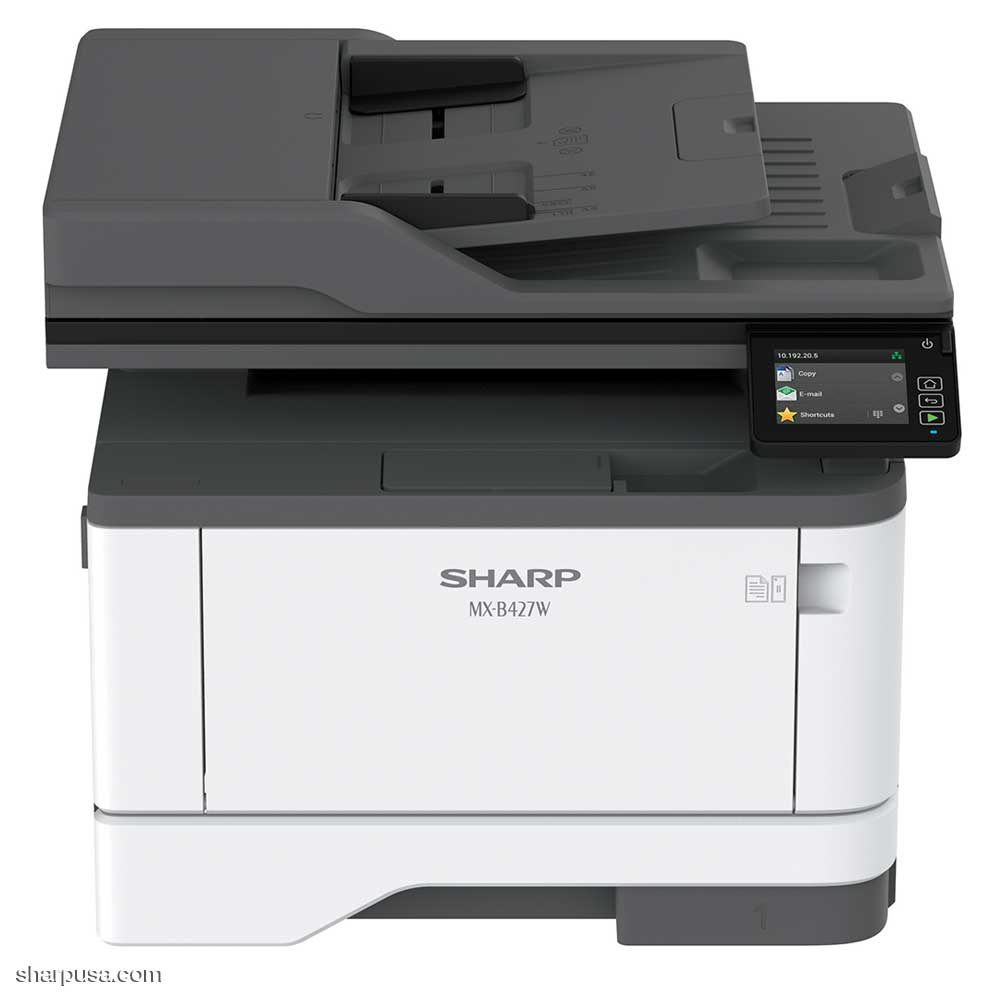 Sharp MX-B427W & Sharp MX-B427PW
Both of these Sharp printers feature a user-friendly interface which makes it infinitely convenient to use a variety of functions that can boost the productivity and efficiency of your team.
High productivity features
The MX-B427W and MX-B427PW deliver highly versatile media handling capabilities, which support cardstock, envelopes, and small media from either the main tray or even their multipurpose feeders. They as well come complete with a handy card copy feature that allows users to capture both sides of ID or credit cards and eventually print them to one side of the paper. Alternatively, this office technology functionality gives users the option of saving the ID/credit card copies to network folders. The MX-B427W and MX-B427PW feature a standard high-speed Super G3 fax too. Lastly, they integrate a steel frame and lifetime imaging parts that guarantee durability even in a hyper-busy office and necessitate very minimal maintenance to remain in tiptop working condition.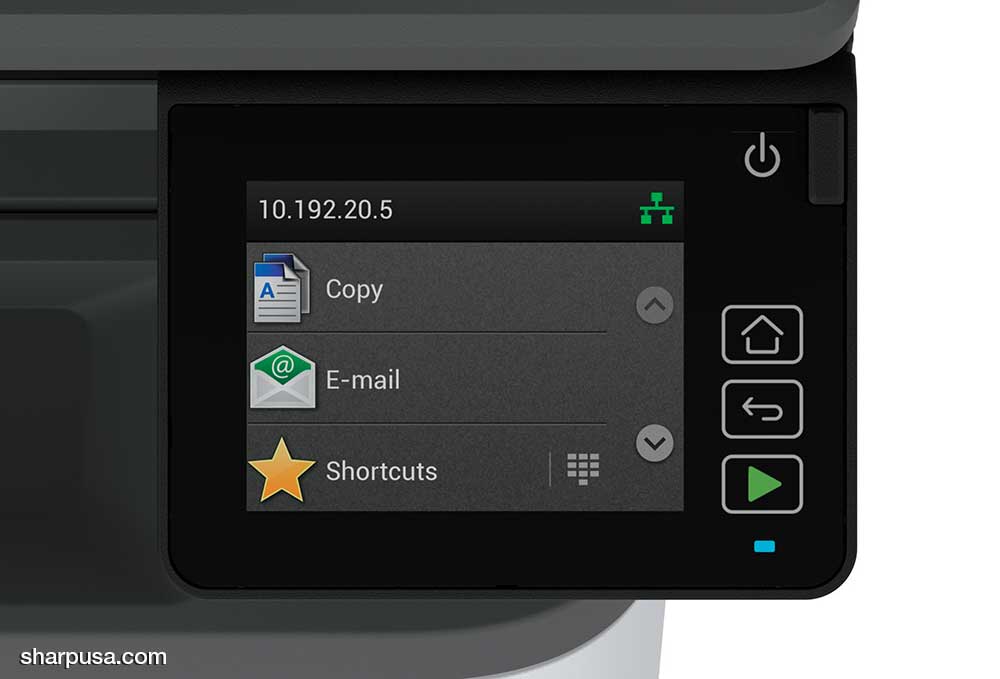 Exceptional ease of use
These desktop printers come complete with a 2.8" color LCD touchscreen display which delivers easy access to their various functions as MFPs or even copiers. This two-line office technology display enables effortless configuration and interactions with the systems as well as monitoring of critical system information.
The MX-B427W and MX-B427PW also have a front USB port that permits the walk-up printing of diverse file formats, completely doing away with the need for connection to a computer. On the other hand, these Sharp printers integrate Sharp's Remote Operation feature, which makes it possible to display their control panels on PCs and mobile devices. In turn, this makes it a breeze to operate the MFPs remotely. At the same time, these new models incorporate Sharp's Remote Device Manager functionality that permits centralized control of all networked printers and MFPs in the office.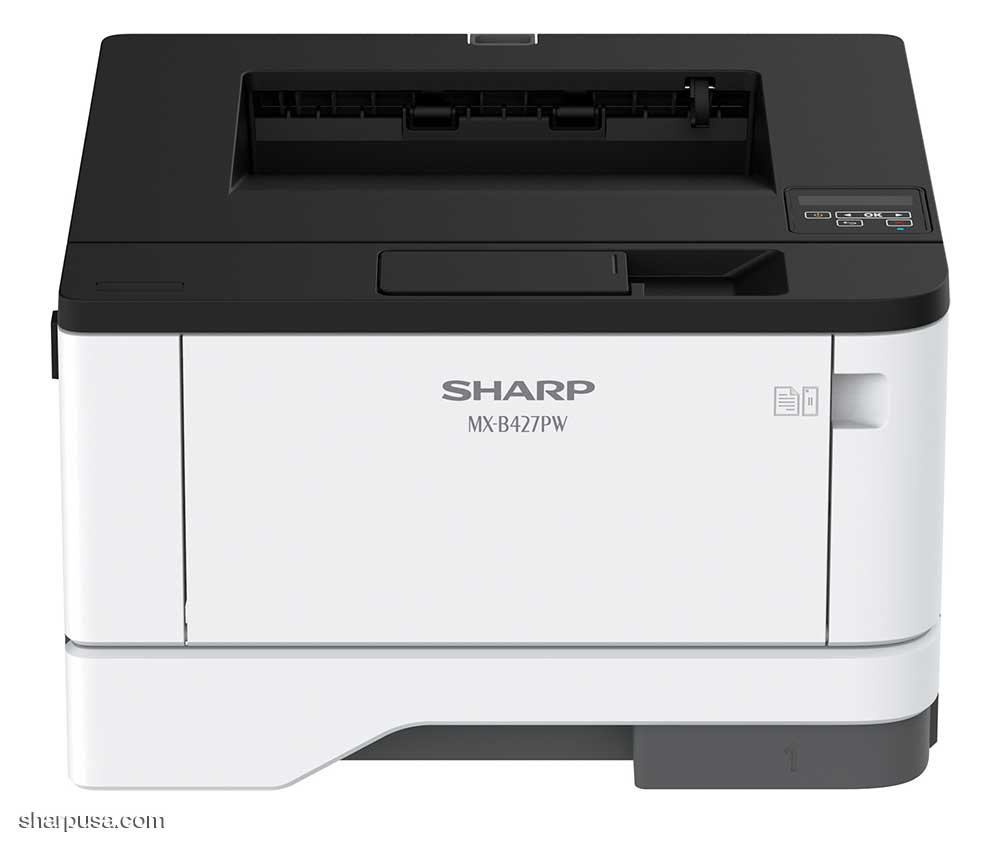 Sharing critical office information securely

The MX-B427W and MX-B427PW have a standard secure wireless connectivity that makes it easy and hassle-free to access their functions from mobile devices like smartphones and tablets. They as well support a number of mobile printing office technology services like Sharp's Print Service Plugin and AirPrint.
These MFPs also come complete with multi-layered security functionalities that go a long way in keeping critical business information safe either in the document, on the various devices in use, or even over the network. Not to mention a range of embedded security features which makes them invulnerable to all manner of cyberattacks. Finally, the standard Confidential Print functionality guarantees optimal output security through the use of a simple PIN.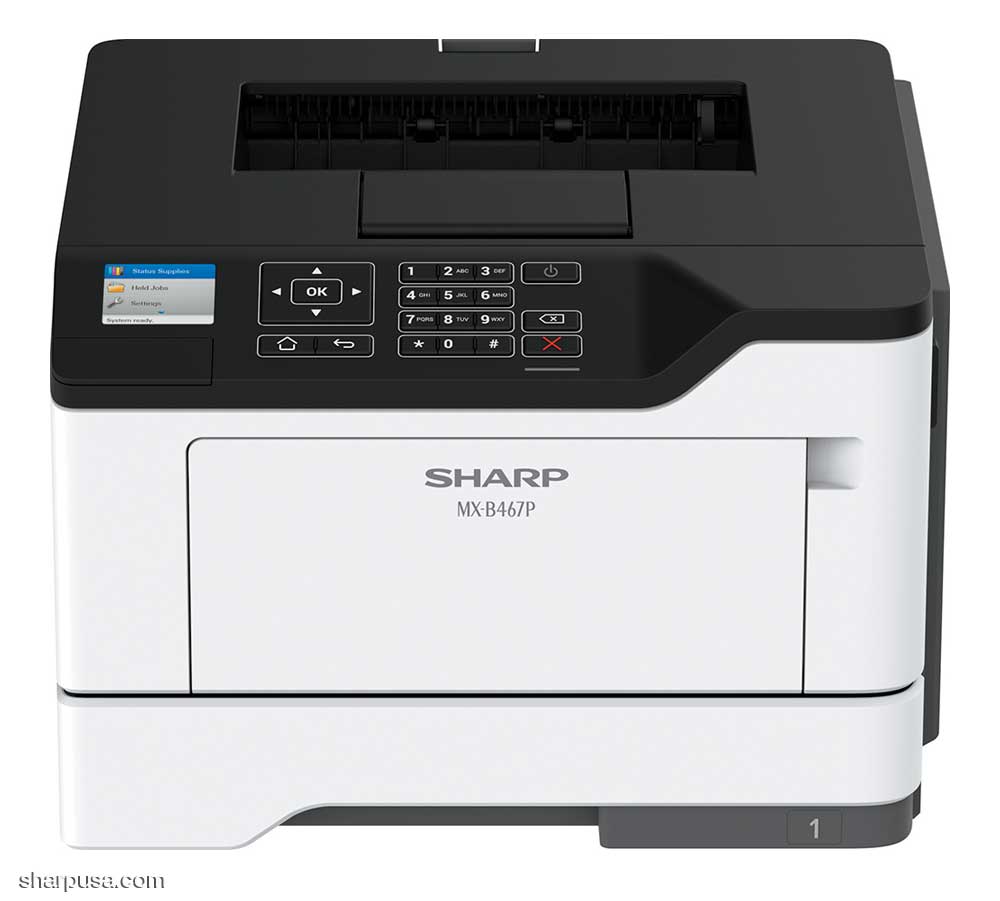 The Sharp MX-B467F and the Sharp MX-B467P

Besides all the features outlined above, the Sharp MX-B467F and MX-B467P enable direct printing of Microsoft Office files including docx, xlsx and pptx. They as well permit direct printing of TIFF/JPEG/PDF and XPS file formats without using printer drivers.
These 2 desktop office technology MFPs also support Compact PDF functionalities. On the flipside, the optimal character recognition (OCR) feature enables the conversion of scanned documents into searchable PDF files or editable Microsoft Word files. Also, via this OCR capability, these Sharp printers can create business card databases. The MX-B467F and MX-B467P come complete with a 4.3" color LCD touchscreen display, which incorporates Sharp's Intuitive Easy UI mode that makes it hassle-free for all team members to utilize the advanced functions. Lastly, they come complete with an energy management functionality that minimizes power consumption during either active use or in sleep mode.
Coastal Business Systems is a top provider of diverse office technology both for the workplace and work from home environments including Sharp MFPs. We also offer high-quality managed print services to business establishments that request them.