The Sharp MX-M5071 Monochrome Advanced Series copier is, without doubt, the next big thing in the managed print services industry. It leverages cutting edge technology to deliver dependability and the top-notch performance that are prerequisite in today's hyper-busy office environments. This innovative multi-function printer combines remarkable ease of use and cutting edge office technology features which simply puts it in a class of its own. Users get to access an intuitive and seamless experience that guarantees their jobs can get done right all the time.
The MX-M5071 also incorporates top of the line security features and functionalities, which will make sure your business' confidential information and personal data are always protected at all times. This copier delivers powerful multitasking capabilities that are always essential in today's dynamic document workflow management operations which characterize busy workspaces. Let's now take a closer look at the most notable features of this MFP printer from Sharp.
Out-of-this-world functionality
With its exceptional paper handling and networking capabilities, the MX-M5071 can easily meet and even exceed all your office technology requirements. In the first place, it integrates a simplistic and intuitive functionality. You get to pick from basic functions like the Easy Modes to complex scanning jobs and more, with an ease and efficiency that will blow your mind. Also, this copier facilitates for heightened productivity and top-notch performance you might be on the lookout for. With such a MFP, you will be able to scan documents at speeds upwards of 220ipm.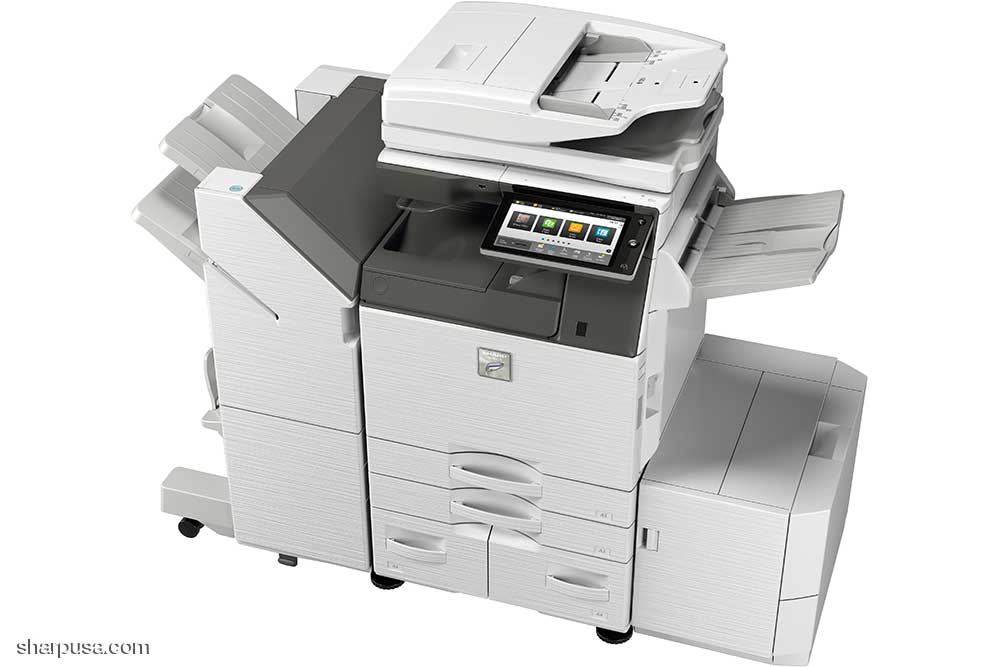 On the other hand, you can leverage the manual stapling feature on select finishers, should you wish to re-staple your originals. Alternatively, the MX-M5071 comes with multiple finishing office technology that lets you intuitively choose the precise output you require. Whether it's stacked, staple or even saddle stitch. There is as well an in-built staple finishing mode which enables you to save regular staples for much bigger sets. Lastly, this copier incorporates the MFP Voice capability that lets you use voice commands via Amazon Alexa to enjoy hands-free operations.
Powerful document workflow management features
If you are on the prowl for seamless document workflow management capabilities, look no further than the MX-M5071. This MPF features Sharp's innovative Email Connect and Cloud Connect tech. The first facilitates a "scan-to-email" function, which supports Microsoft Exchange and Office 365 along with Gmail. This makes it infinitely easier and convenient to identify senders of scanned documents. Cloud Connect, on its part, enables you to "scan-to" and "print-from" directly from Microsoft OneDrive for Business, Dropbox, Google Drive, SharePoint Online, and Box. This copier also features Intelligent Image Processing, which makes it possible to streamline document workflow management of a variety of file formats.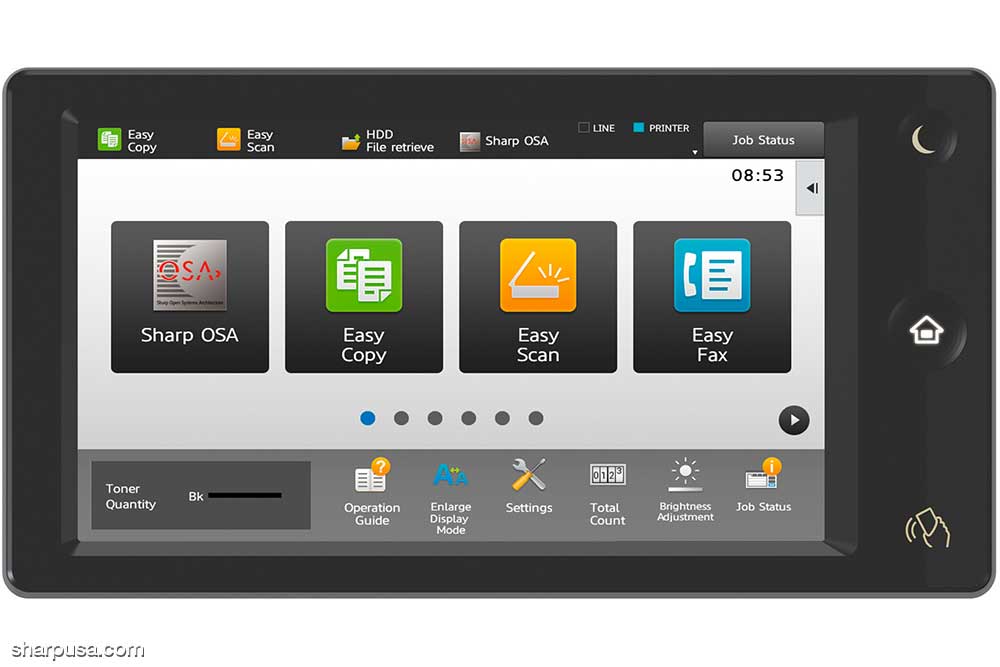 While its optical character recognition (OCR) functionality will let you scan and convert documents to diverse file formats. This includes Microsoft Word, Excel, PowerPoint together with Searchable PDF, Encrypted PDF to mention but a few. Additionally, users may print all of the above document file formats directly from thumb drives, mobile devices, or even Cloud apps. The MX-M5071 as well boasts of Sharp's OSA tech that is noted for simplifying complex business workflows. This feature allows you to harness the power of network apps, cloud services, and backend systems.
Top-notch security features
This MFP comes complete with an array of security office technology functionalities which help users protect their business data. This includes multi-layered security features such as Firmware Attack Prevention and Self-Recovery. This particular functionality sets to work by identifying unauthorized users and ultimately restoring the MX-M5071's firmware to its default state. While the Authority Groups feature enables the management and restriction of copying, printing, and scanning operations in order to protect data. There is also the Confidential Printing functionality that protects sensitive documents by simply prompting users to input a valid PIN code before any printing job is initiated.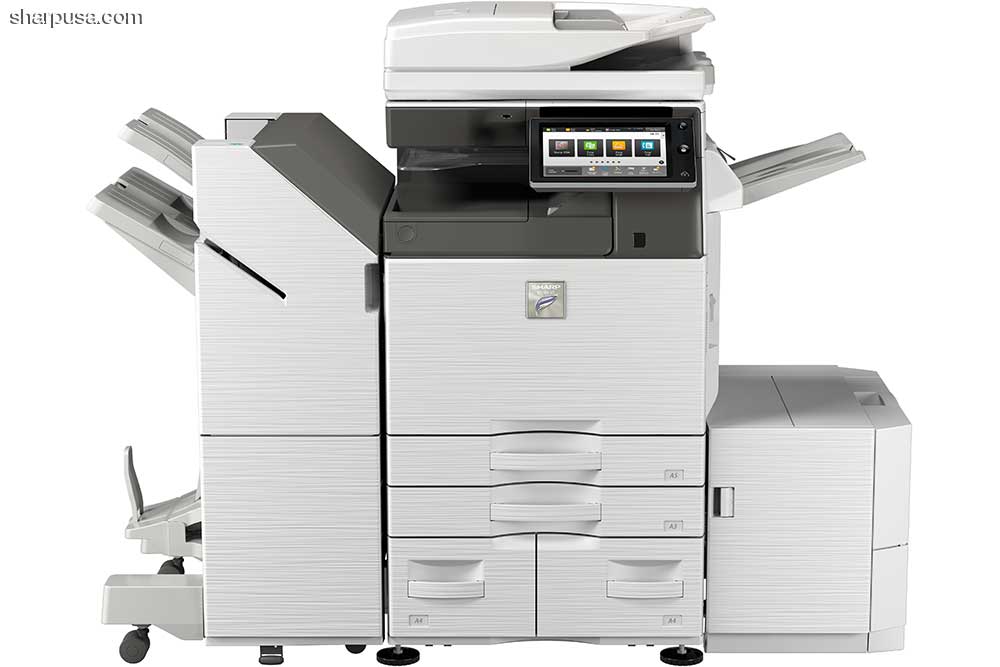 This copier as well integrates other Sharp office technology like Application Whitelisting, Single Sign-On, Active Directory Group Policy, and Integrated ID card authentication tech. Finally, the End of Lease policy ensures you can delete all business data and personal information once you are ready to trade in your MX-M5071.
Benefits of the Sharp MX-M5071
First of all, the MX-M5071 features Sharp's award-winning touchscreen display, which integrates an easy-to-use interface, making it very user-friendly. The whole package includes Easy Modes, built-in user guides, and even rapid network services access. There is also the MFP Voice capability that lets users perform hands-free functions. This copier can as well significantly boost your team's overall productivity thanks to its full multi-function features which include network printing, copying, color network scanning. This product is also workplace friendly and maybe seamlessly incorporated into modern and complex network settings and more. While offering support for cloud services and mobile devices too.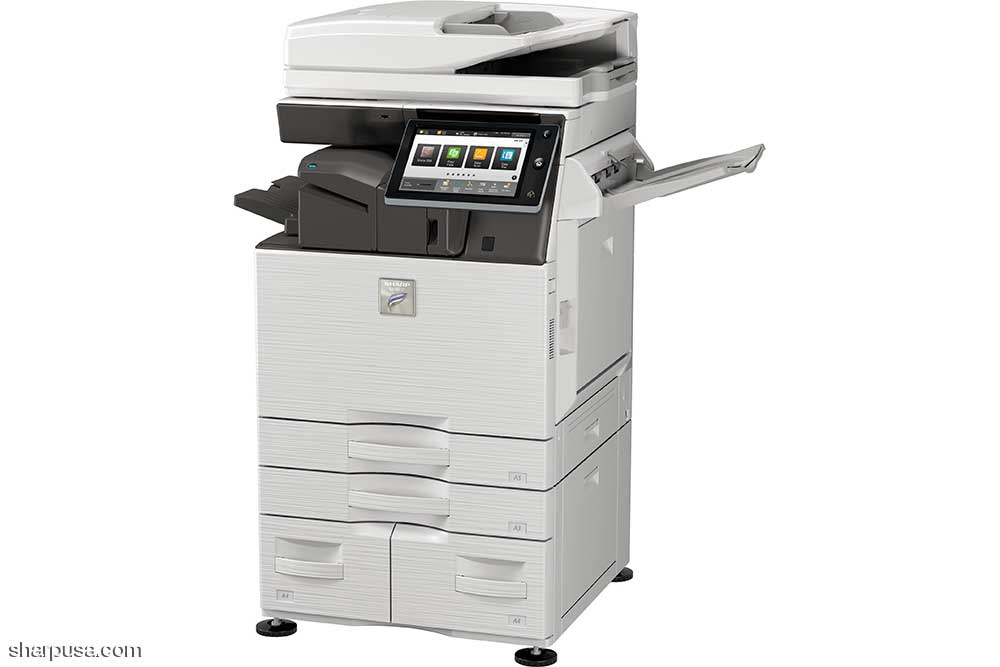 Lastly, this MFP conforms to Sharp's environmental sustainability and corporate social responsibility policies. These policies cover the design of energy-efficient machines, utilizing recycled materials, and minimizing the number of materials utilized in products and their packaging.
Coastal Business Systems is a leading provider of managed print services and document workflow solutions, and we are proud to offer a wide variety of Sharp MFPs including the MX-M5071. Stop by or give us a ring today to find a solution that meets your business needs!