The Windows Collaboration Display PN-CD701 is a next-generation 4K interactive display, which has been specifically designed to support, streamline and enhance collaboration efforts among users of office technology in virtually any office setting. The PN-CD701 bears the distinction of being the world's very first Microsoft-certified Windows collaboration display in the market. It seamlessly combines Sharp's award-winning touch tech and a series of innovative sensors. The latter of which are designed to work intuitively with Microsoft Azure Digital Twins IoT platform to effectively monitor your business' collaboration workspaces.
The highly advanced features of the PN-CD701 leverage the power of intelligent Cloud technology within a workspace, making use of IoT and productivity tools. With its interactive office technology, you will be in a position of utilizing data collected by in-built IoT sensors to create a more comfortable, energy-efficient meeting room for your team. Also, the PN-CD701 functions seamlessly with Microsoft's most popular productivity and office technology tools including Office 365, Microsoft Teams and Skype for Business. As such, it delivers the right tools you and your team can utilize to connect and collaborate more efficiently and in an instantaneous manner.
The display comes complete with a built-in camera integrating a 4K sensor, a far-field microphone and speakers. When combined, these features deliver a first-rate audio and video streaming experience that is 2nd to none. Its USB-C compatibility means you can achieve a simplistic single connection across multiple devices and significantly cut down on the time needed to set up your meeting equipment. Let's now take a closer look at some of the most notable features of the Windows Collaboration Display PN-CD701 from Sharp.
Plug & play capabilities
The PN-CD701 will let you effortlessly save upwards of 10 minutes in setting up your office technology and meeting equipment thanks to its plug & play capability. All you will simply need to do is plug it in your laptop via a USB-C cord, and you are good to go! This connection delivers high-speed, high bandwidth data transfer for diverse functions. This includes 4K Video streaming, application data, and even internet network connectivity. As a plus, a wireless casing feature enables your team to share information using Windows and Android mobile devices.
In-built sensors linking to Microsoft Azure Digital Twins platform
The Windows Collaboration Display features in-built sensors, which offer seamless connections with Microsoft Azure Digital Twins IoT platform along with other cloud services including Sharp's Synappx Workspaces. This enables you to create more comfortable, energy-efficient meeting rooms. he PN-CD701's intelligent climate measuring capability can be leveraged by an AI service to control your meeting room's temperature and relative humidity. While its air quality can be measured by an AI service in order to regulate its air conditioning. Lastly, the display's ambient light sensor can automatically measure light levels in your meeting room, and again with the aid of an AI service, adjust the in-room lighting system to minimize eye strain over changing day and night conditions. This feature may as well lead to substantial cost savings in using office technology as it prevents energy wastage.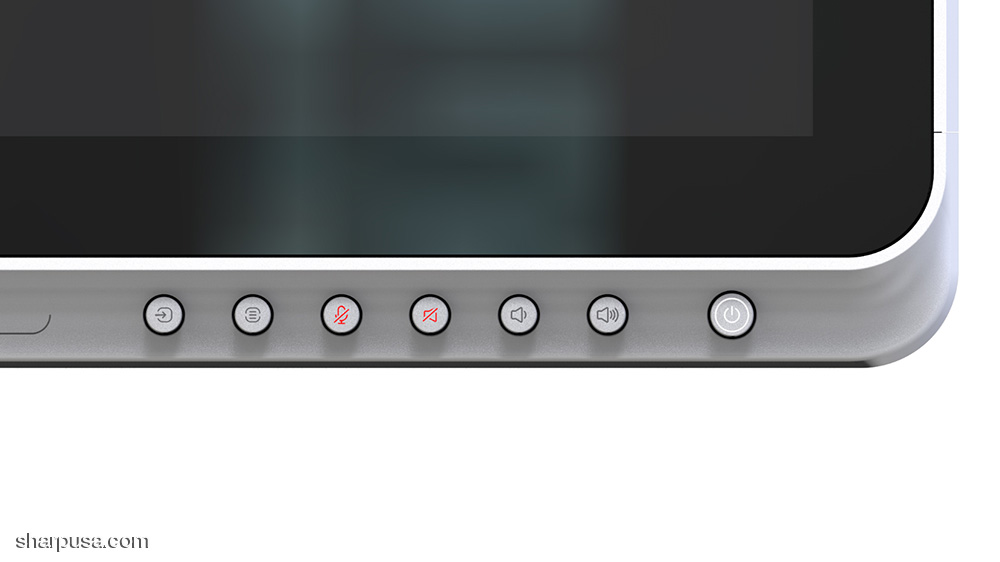 Skype for Business certified
The PN-CD701 has been certified for Microsoft's Skype for Business. To this end, it delivers seamless audio and video streaming. It also facilitates exceptional connections and collaboration capabilities by leveraging the power and productivity of Office 365 at a room-scale. The whole package includes Microsoft Teams, an intuitive real-time chat capability, notes, and attachments. All this makes up for a dynamic online meetings solution, which lets your team use office technology and interacts with each other, even remotely.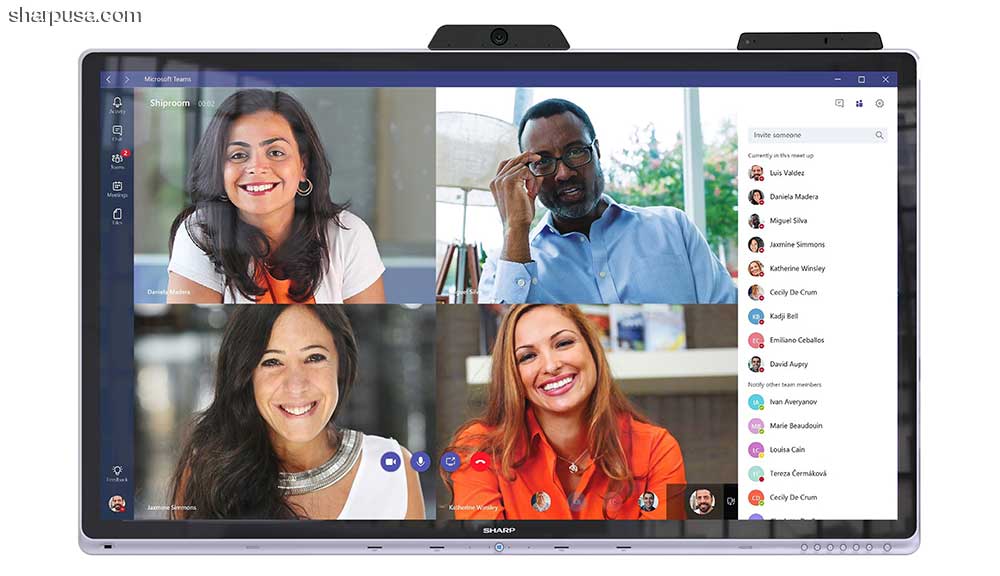 Interactive display
The Windows Collaboration Display comes with Sharp's Pen-on-Paper tech to offer a much precise and natural feel when presenting. You can simply use your finger to write on it like you would with a marker on a whiteboard or flipchart. You and your team may as well begin collaborating without going through training and with decreased distractions.
The benefits of the Windows Collaboration Display
In the first place, the PN-CD701 will improve your team's performance and productivity using office technology by up to 20% simply through enhancing air supply in your workspaces and meeting rooms. This display features in-built sensors that help in creating a smart building environment. With it, you can be able to streamline the management of heating, cooling and even room booking systems based on how you and your team actually utilize your business' workspaces.
On the other hand, the PN-CD701 is designed to seamlessly work with diverse Microsoft applications you might be already using. This includes Office 365 and Microsoft Teams. The last of which pools in one place conversations, content, managed print services, and tools for more efficient group collaboration. Finally, this 70" (69.5" diagonal) display delivers top-notch collaboration experiences through Sharp's Pen-on-Paper tech. This facilitates for an instantaneous and precise writing experience as would be the case if you used a real pen on paper. While its 10-Point-P-CAP Capacitive Touch tech provides an intuitive touch experience enabling users to be much more confident when making presentations.
Sharp is a premier partner of Coastal Business Systems. Besides managed print services, Coastal Business Systems offers learning and office packages for the Windows Collaboration Display. For more information on Sharp's PN-CD701, please feel free to visit opens in a new windowSharp Windows Collaboration Display and give us a ring at (707) 445-3095 to learn more about our Sharp office technology offerings!