Returning to work in an office setting has been problematic for all, when taking into consideration the new protocols and safety adjustments that need to happen to provide a safe environment for staff and visitors. COVID-19 doesn't show any signs of going away any time soon and people will eventually have to safely rejoin the in-person workforce. As a provider of cutting edge managed print services technology, Coastal Business Systems and our partners such as Sharp, are doing what we can to ensure employee safety upon return to the work environment. Let us walk you through some of the latest contactless, hands-free technology offerings.
Temperature Measurement Kiosks with Facial Recognition: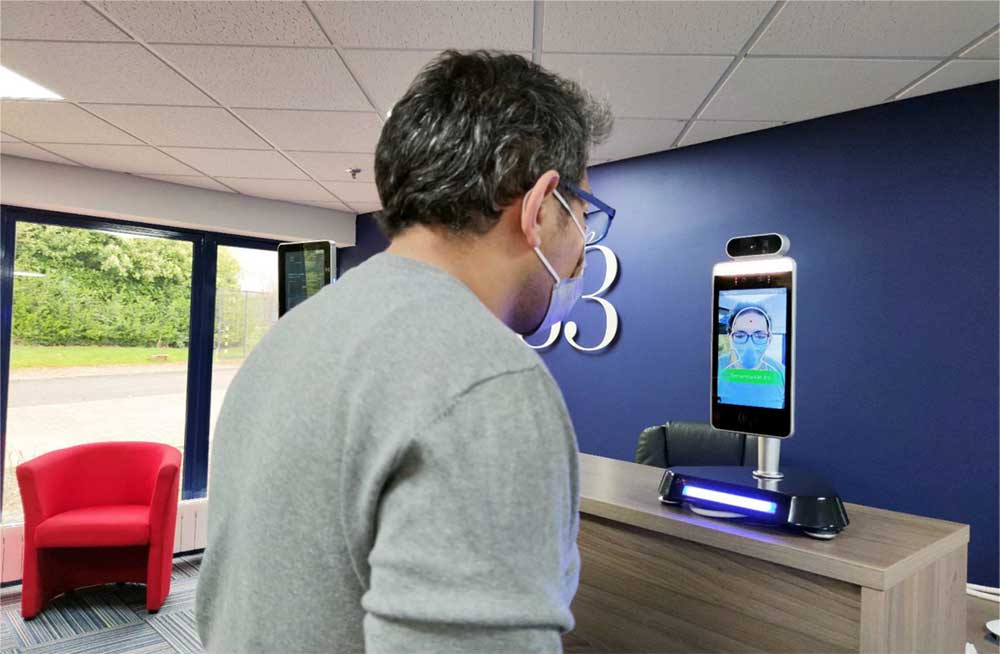 The first thing that needs to be ensured before a person enters the workplace is to check if he or she is physically healthy. The pandemic is spreading quickly around every corner of the world and only a few seconds are needed for the virus to catch. Coastal Business Systems' specially designed temperature measurement kiosk with built-in facial recognition has numerous benefits. It gives schools, universities, offices, and hospitals, etc. an excellent opportunity to ensure every person entering is not sick or unwell.
The temperature measurement kiosk scans the forehead of any person who stands in front of them and detects the temperature of the individual within one second. The additional facial recognition feature is a perfect combo. It is highly useful for places such as offices, universities, and hospitals, etc. The facial recognition by using biometrics scans the person & ensures if he or she is well enough to enter. The kiosk also exports the logs to excel. This type of technology is what companies are looking for – a device that does not even leave speculation of being in an unhygienic environment. The kiosk can also be well integrated into glass, turnstiles, and door access. As it only requires power to run, this device is user-friendly. Moreover, it is very convenient without having complications in installing.
Sharp – Return to the Office with Confidence
Furthermore, it has the option of a verbal message and an LED traffic light system. As CBS always takes care of its customers, we guarantee a one-year stand warranty. Any issue with the device caused within the first year will be fixed by the company itself, at no charges.
Return to the office with confidence", this mission statement from Sharp is quite self-explanatory. It makes one feel secure, as it should. Sharp provides top tier and state of the art technologies, with products that guarantee total safety. Organizations need to provide touch-free, safe work environments without compromising productivity and Sharp can deliver on that promise.
Hands-Free Voice-First Operations: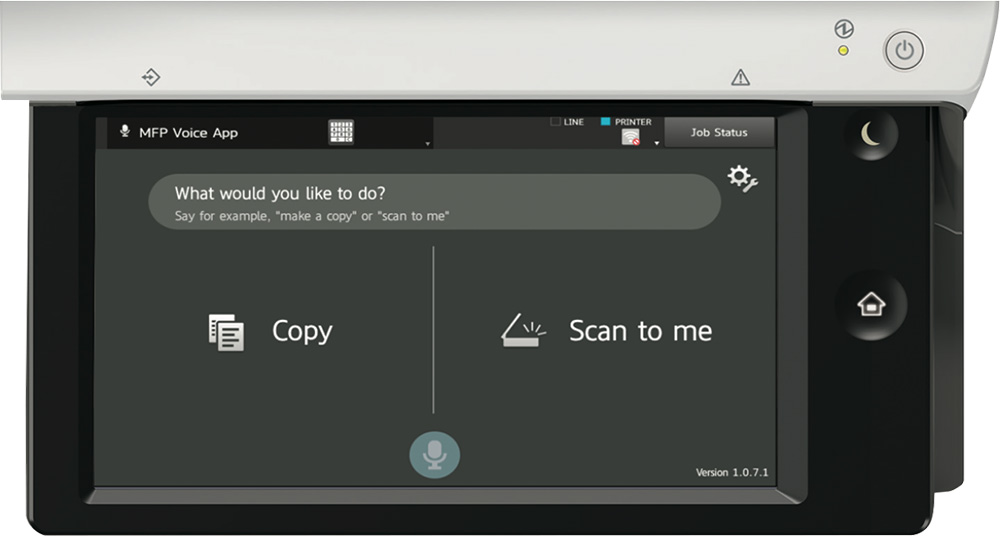 Artificial Intelligence has taken the world by storm. Everything you find in a well-reputed large company will most likely have Artificial Intelligence features installed in it. Taking advantage of how beneficial AI is, Sharp has come up with their own "hands-free voice-first operations" technology. This tech ensures one thing – a touch-free managed print services device.
This total contactless work is enabled via technology that uses verbal communication. For example, if an employee wants to get some specific pages photo stated. In this situation, the employee only needs to speak near the Sharp device. He/she would voice command such as "Alexa, please ask Sharp to photo state five pages". As it can be seen that no buttons have to be touched on the photo state machine, however, the work would get done. As doctors say, the number one place where coronavirus germs hide is on surfaces. Thus, SHARP's technology eradicates that risk. Furthermore, it helps employees work while being confident and stress-free.
SYNAPPX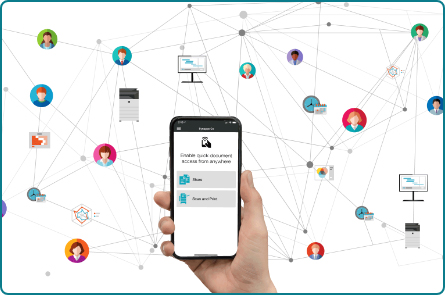 COVID-19 has made us used to a "new normal". We had to start doing things we never did earlier. One of these main things was that it made us heavily dependent on remote learning. As everything had to be done online. Thus devices such as smartphones, laptops & iPads are now highly used. The Synappx Go app turns this newly made habit of ours into a life-saving option. Now, with the Synappx Go app, you don't have to be in contact with anything. All you need is your phone. Just download the app & connect your respective devices with Synappx Go. Then, whatever command you wish to make, you can do it via your phone. For example, if an employee wishes to scan documents, make cloud storage, printing, copying etc.
There is one main difference between "Synappx Go" and the "Hands-free, voice-first operations". This is that while operating Synappx Go, the user would not have to communicate verbally, whereas, in "Hands Free Voice First Operations", the users would have to talk to get the work done verbally. The usage of the Synappx Go app guarantees to make your workplace smarter and safer. This app requires the know-how knowledge of the app only, which is built specifically to be user-friendly for more manageable and less complicated understanding. Thus, there is no need to get into the complexities of the machines themselves, as all tasks would be done through your smart phone just by touching. More information on Sharp technologies can be found here.
After delving into these modern-day technological advancements, rest assured that Coastal Business Systems is a company that will always put the safety and security of our staff, customers, and partners into the utmost of consideration. If you'd like to learn more about our industry-leading temperature measurement kiosks, call us at 707-445-3095 / 800-331-6672 or click this link to learn more!