Before having a detailed look into these interactive digital displays and systems, let us walk you through how Managed Print Services and these office technologies make your company meetings and classrooms more productive:
Managed Print Services and its Effect on Your Business Productivity
Managed print services is a program served by a print provider that supplements and manages all aspects of your document output. Coastal Business Solutions, in collaboration with Sharp technologies and printers, offers managed print services that assess, maintain, and replace hardware and accessories for your business printing devices that include printers, scanners, faxes, and copiers. We also track how the fleet of these printers is used, identify the problems, and ensure satisfaction of the user.
These MPS solutions help businesses reach their optimal productivity goals every day by providing up-to-date MPS software and fleet that are suitable for their specific business needs. The ultimate benefits of these services include:
Reduction in printing costs
Enhances your business efficiency
Guarantees document security
Eradicates local printers
Decreases carbon emission
Reduce inventories of products by up to 80
Along with Document Systems, Sharp introduces the new game-changing interactive digital Windows Collaboration and Commercial Displays. With the use of exciting technology, collaboration display has made it possible to interact and engage with people from various destinations more effectively, enhance user experience, and proceed with smooth and seamless communication.
There is an increasing demand for digital displays amongst colleges, universities, corporations, , and small business firms. Interactive displays enable teachers, staff, or employees to exchange data and graphs in real time for classroom instruction, corporate project collaboration, instruction, and virtual collaboration.
Sharp introduces next-generation interactive digital displays to offer new features with enhanced total cost ownership (TCO), and seamless collaboration into the existing platforms in your meeting and classroom. Let us take a look into how these new interactive displays have made it possible for you to stay responsive and productive, whether it is your corporate meeting or a history class.
Interactive Digital Display for Meeting Rooms
Incorporated with vivid technologies, the Windows Collaboration Display by Sharp technology is specifically suited for office technologies so that you can not only interact with your colleagues and staff but also your office environment. After all, who does not want a relaxed meeting atmosphere with maximum productive teamwork within a minor setup.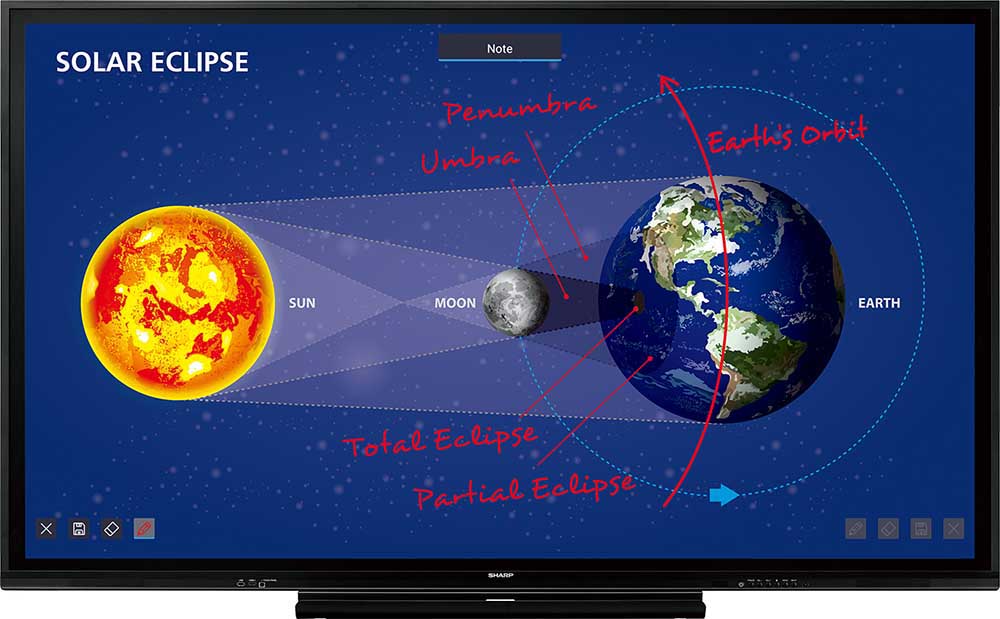 Interactive Digital Display for Classrooms
Coastal Business Solutions aims to break any hurdles that may come between you and the education system, be it joining classes from home, lagging internet, or connectivity issues. Sharp makes it possible by introducing SHARP AQUOS BOARD interactive display systems that are far beyond your typical interactive whiteboards.
Classrooms
Boardrooms
Video and teleconferences
Training
Digital signage: Wayfinding, Donor Boards, and more.
With an open platform of Aquos Board Digital Display, Sharp has taken an open architecture approach that enables users to choose the best components from their preferred sources while maintaining the utilization of their latest and IT-approved Aquos Board monitor program and peripherals. This Aquos board enables all the staff members or classmates to interact with their own devices without any time and money spent on supplier required software licenses while implementing modern immersive digital display technologies. It runs on your existing Windows OS and peripherals.
How AQUOS Board Digital Display works differently from other Interactive Displays
The use of digital whiteboards is well known for fifteen years or so. It may have advanced into Window-based operation and videoconferencing with multi-touch technologies, but they are still based on the model of single-vender and closed architecture, which means that the user needs to purchase the complete system, from the software instructions to hardware installation. These systems also require extensive training for their usage and fittings.
Aquos Board Digital Displays offer a new cloud-based video conferencing environment with easy plug and play technique, right out of the box, into a multi-device Windows or a "Bring Your Own Device" environment.
It is also accessible for those who want to upgrade their existing investment into a Sharp collaboration display in their classroom or meeting space – virtual communication made smart and easy! Give us a ring today at 707-445-3095 or 800-331-6672 and let's set you up with the right technology for your needs!