Printing on the Go with Sharp SynAppX Technology
With this forever changing and advancing world, we have to keep up to compete with others, especially if you run a business. It is essential for business owners, whether small or big, to stay current with the latest office technology and services, such as those that Coastal Business Systems provide.
In addition to providing our clients with the best office technology and managed print services, we are also proud to partner with powerhouse brands like Sharp. Always staying ahead of the game with their cutting-edge offerings, we're eager to see what SynAppX has to offer. Let us tell you a bit more…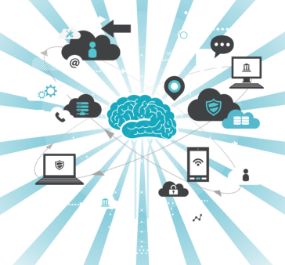 Sharp And Its SynAppX Technology
SynAppX is a unique feature by Sharp and a breakthrough in office technology. It allows your current office technology to work with SynAppx applications to bring the smart workplace experience that you deserve. It enables you to print anywhere and at any time whenever needed. Moreover, it removes all the frustrating technology-related hassles from your essential meetings.
SynAppX technology has four different applications: SynAppX mDesk, SynAppX Meeting, SynAppX Go, and SynAppX WorkSpaces. Let us dig deeper into them!
SynAppX mDesk
SynAppX mDesk is an excellent way to make the work style more flexible, allowing you to be more productive and efficient, whether you are working from the office or home. The SynAppX mDesk enables you to have a simplified virtual workplace that enhances your collaborative creativity and provides improved web conferences.
The SynAppX mDesk, combined with the SynAppX Meetings, is the best combo for keeping the upper hand in the office. So, without any further ado, let's take a look at what SynAppX Meeting is all about.
SynAppX Meeting
As the name itself suggests, SynAppX enables you to be on time on meetings, and keep your focus on sharing ideas and collaboration. You can connect your smartphone or any other device to a bigger screen on the go and start web conferencing with all the content ready with a single click of a button!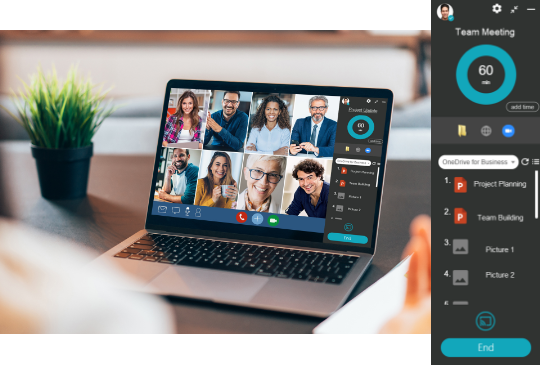 With SynAppX Meeting, you'll never have to worry about being technologically behind, ever! You can easily connect all the components with a single click of a button and begin the meeting without any interference or issues. Starting a conference won't be a headache for you and your teammates anymore. Here are some of its additional features:
Manage and keep track of the meeting time.
Access all the attachments and files with a single click of a button.
It also comes with a hands-free option for display control, Sharp Pen Software, and Microsoft Powerpoint.
It automatically disconnects all the technologies used once the meeting ends so you can start the next one on time.
Security is prioritized over everything!
SynAppX WorkSpaces
SynAppX WorkSpaces is a relatively new feature that allows you to track environmental factors and workspace utilization to make a more comfortable and smarter workspace. Moreover, it also enables you to get actionable analytics with the help of Microsoft Office 365 data.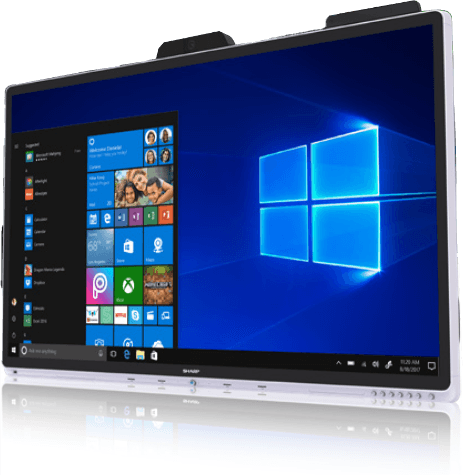 SynAppX Go
Last, but definitely not the least, we have the SynAppX Go. This smart application allows you to move information and content with you throughout the entire workplace. Using only your smartphone, you can scan documents, display data on a larger screen, and even print from a multifunction printer!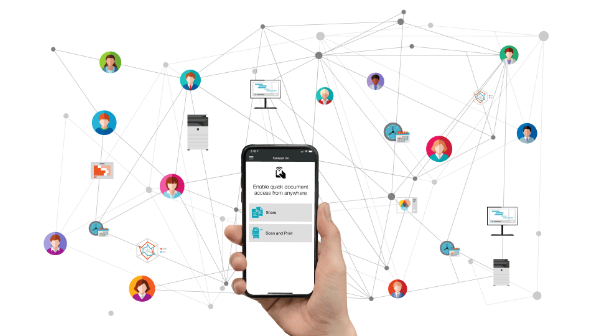 It is easy-to-use and does not require any special equipment or learning.
It offers cloud storage access and personalized scan settings.
It allows collaboration on the go with KFC enabled displays. This means that any place can become your workspace!
Just some taps on the NFC tag with your mobile is enough to get a printout! You don't need to go through a complex log or learn how to use different machines.
It comes with an Admin Portal for central management so you can manage and track everything on the go.
Lastly, it has the best security practices to ensure the safety of your data!
Imagine being in a room and sending printouts to another room using your mobile, or setting up meetings on a larger display with just your phone in a couple of minutes! Sharp has made us proud and they are just one of the many brands we represent at Coastal Business Systems. We'd love to discuss our managed print services and office technology solutions with you so call us today at (707) 445-3095!