Brochures, meeting notes, company forms – if there is ever one thing you will find in any office, it's printouts! As times have evolved, so have our options, and the corporate world now has an array of printing solutions to choose from. Whether you are looking for document management or paper saving technology, at Coastal Business Systems, we have got you covered.
Of course, we realize how confusing this decision can be, which is why we are here to guide you every step of the way as we find you the printer that best suits your business' needs. Let us delve in!
At Coastal Business Systems, we engage in a large variety of managed print services to maximize your company's efficiency. But before we get ahead of ourselves, let us take a look at what exactly managed print services are, and why the option should be your go-to choice.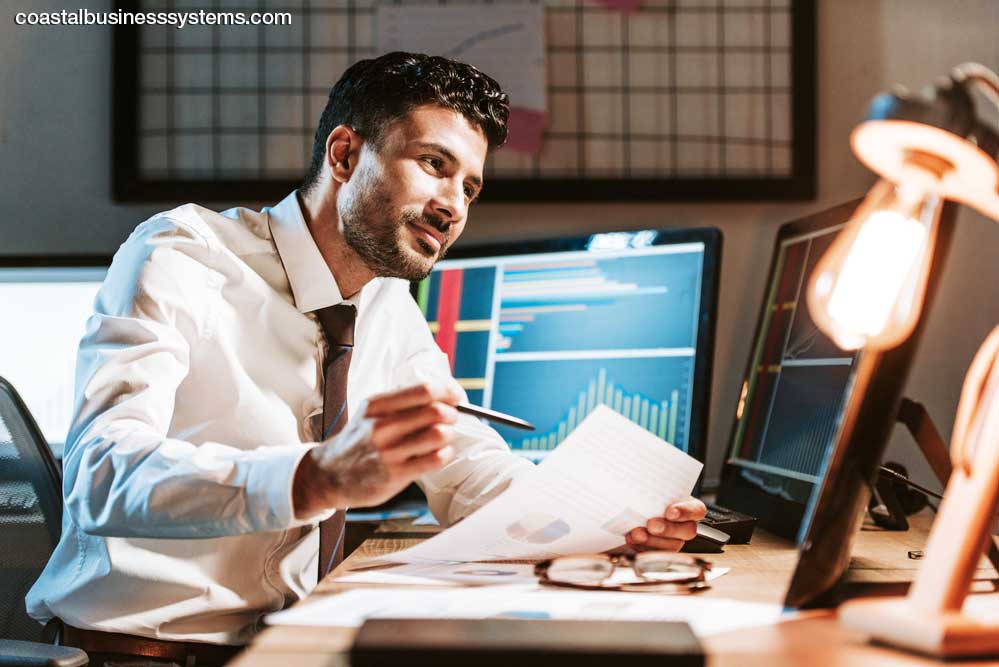 Managed Print Services – The Basics
Essentially, a managed print service operation entails a complete overlook and provision of a firm's printing needs by a third-party provider. This involves business requirements analysis, hardware management, and monitoring printing procedures.
You might be wondering: printing seems like a pretty straightforward job, why should you employ someone else to overlook the process? Well, this may come as a surprise, but managed print services hold immense benefits for your business. Not only does MPS help free up company resources – allowing you to invest them in more pressing areas – but it also saves money as it is costlier to maintain multiple individual printers. And what is more, the system does wonders for the environment by reducing your company's carbon footprint, all while providing firms with top-notch security. Now, doesn't that sound like a sweet deal?
Luckily for you, Coastal Business Systems deals in complete managed print services software solutions for every type of organization, no matter the requirements. So, get in touch with us today, and you will never look back!
Printers, Printers, and More Printers – Which One is Right for You?
With so many printers to choose from, selecting your best fit can be a tough ordeal. At Coastal Business Systems. We provide printing solutions for every business type and need, whether yours is a small or large company.
When purchasing a printer for office use, there are many factors that need to be taken into consideration. These include the size of the company, the volume of printing, printing color and format requirements, as well as wireless connections.
Here are some of our standout product picks, courtesy of SHARP:
MX-5071
Perfect for bustling company settings that need printing done on the regular, the MX-5071 operates at a 50 ppm speed for both color and black and white printouts. Not only that, but this particular printing device also saves on electricity use with a 1920 watt consumption while in use, a 128 watt consumption on standby, and a mere 0.5 watt on sleep – benefiting both your pocket and the environment.
Easy to use, the MX-5071 has a built-in motion sensor and fully functioning touchscreen to make printing in the office a breeze. A quad-core multitasking controller and 500 GB worth of hard disk and wireless connectivity means that operation is both smooth and effortless. With the MX-5071, you will truly have an excellent printing experience.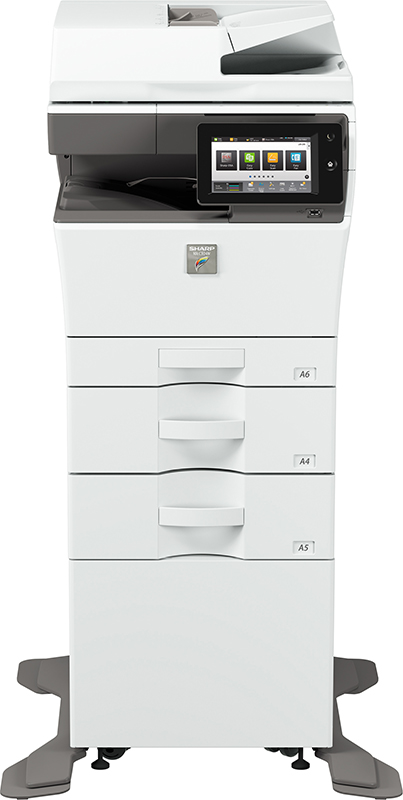 MX-C304W
The MC-X304W is the ideal fit for technology-dependent work environments that are short on space. With its compact build, the multi-function digital color printer operates on a 250-sheet capacity. A high-resolution dot matrix, the printer holds a touchscreen display, integrating both quality and ease of use into the same device.
And this is not all; the MX-C304W is big on protecting your data, which is why it is complete with comprehensive security features that safeguard against breaches. And the best part? This printing device is compatible with mobile technologies such as phones, tablets, and laptops. This means that you can now send printing commands directly from your device of choice, saving on both time and hassle. Oh, and not to forget, MX-C304W works perfectly well with Alexa voice commands, bringing significant flair and cutting edge technology into the workplace.

We understand that the process of selecting the right technology can be daunting and Coastal Business Systems is here to provide all of our customers with the tools you need to stay productive and efficient as your business needs change. Give us a call today to get started!