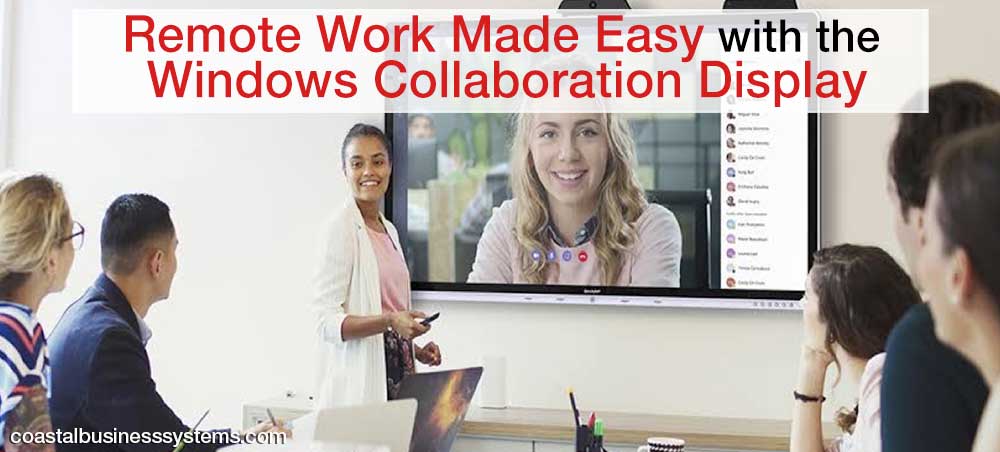 Remote Work Made Easy with the Windows Collaboration Display
With the current COVID-19 situation, the entire world is forced to resort to a passive lifestyle with little in-person communication with the outside environment. This leaves us at the mercy of our gadgets and tools to stay up to date with the latest occurrences. The more significant problem arises for people who have to run their businesses and companies from home. Staying on the same page with all team members is crucial for regular operation.
Remote work might sound convenient to you, but it is also intricate at the same time. And having the necessary tools to make this process swift is imperative. Luckily, Coastal Business Systems has the right solutions for your remote work concerns:
What is the Windows Collaboration Display?
The Windows Collaboration Display from Sharp is the latest advancement in office technology with its 4K Ultra HD 70'' Class (69.5 diagonal) interactive display and dual-screen wireless casting. It modernizes your office meetings, training rooms, and anyplace which requires virtual collaboration.
Taking advantage of Sharp's top-notch technology, it incorporates an IoT sensor hub with a 10-Point Multi-Touch Screen, an equipped camera, and blends coherently with Microsoft 365 collaboration tools. With various alternatives available in the market, here's how the Windows Collaboration Display stands out: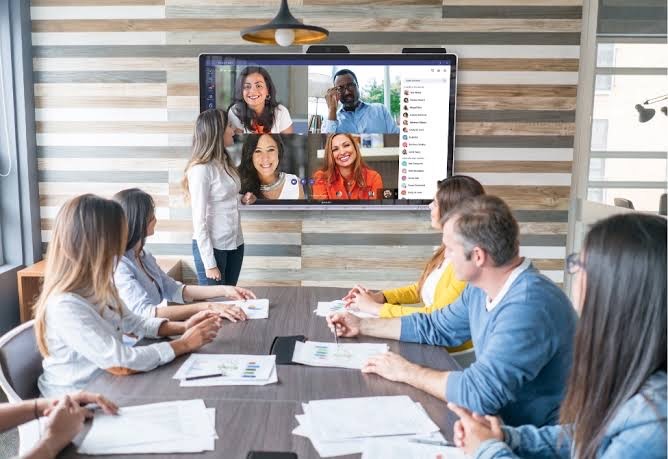 Walk-in, plugin, and work together
The most vital element of any virtual meeting is the setup of various tools. With the Windows Collaboration Display, you can easily 'plug and play' and get your systems running. It comes with a long 8m USB-C cable, and it immediately takes you to your desired input for the display you want to project. It is compatible with Mac and Windows notebooks,
and its 4K video, a capacitated touch screen, and high bandwidth data transfer allow easier accessibility and ease of use without having to go through the hassle of setting up connections.
There is a wireless connection provided in case you require a lower bandwidth data transfer. If any hardware is not adaptable with the USB-C link, it can still function well with the Windows Collaboration Display.
Better places to meet
When it comes to conducting a conference, the environment holds vital importance. It determines the productivity and focus of the people involved, which in turn improves the entire experience. The Windows Collaboration Display provides built-in sensors that are synchronized with the Microsoft Azure Digital Twins IoT platform and subscription services like Sharp Synappx WorkSpaces.
IoT Sensor Hub
Temperature – the sensor hub uses Artificial Intelligence(AI) to regulate temperature and humidity in the room to ensure that the environment remains optimal for the people there.
Light – having a light sensor helps to control and measure the intensity of the light, also known as intelligent lighting control. Regulating the light in the room with altering day and night settings can decrease eye strain and lower energy wastage.
Occupancy – AI counts the number of people in the room by detecting their movement with the help of its motion sensor. It can also enable faster displays and schedule bookings. With its Modular 4K Camera with Microphone Array x4, the AI can focus on the person speaking for better audibility.
Air quality – the Windows Collaboration Display quantifies the air quality in the room, and AI regulates the air-conditioning.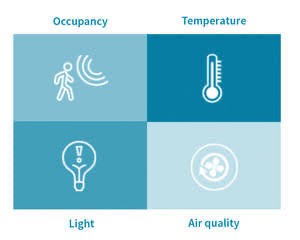 Simply much easier
The Windows Collaboration Display makes use of its 10-point Projected Capacitive Touch Screen(PCAP) for an innate Sharp Pen-on-Paper® experience. Redefine your experience of writing on-screen by using either your finger or a pen to add comments, notes, or highlight any annotated information during the meeting.
Speeds-up collaboration – members can make use of its accessibility without undergoing any training, which improves interaction.
Builds confidence – members feel less hesitant to participate actively and contribute their knowledge and ideas.
Increases concentration – as there are no hiccups in operation, it promotes a seamless flow.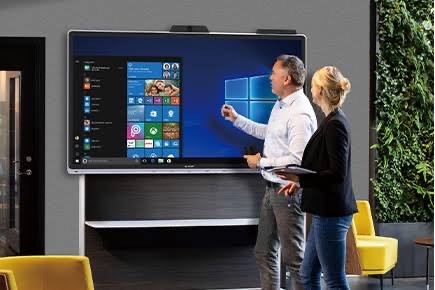 Fast, precise control
The Windows Collaboration Display is equipped with a stylus that is engineered with a 2mm tip to upgrade your Pen-on-Paper experience. It is optimal for discussing architectural or engineering plans, specific graphics, or anything that needs a thorough depiction.
All you need to do more
Business meetings can vary from large-scale to limited workgroups, which can either be domestic or global. The Windows Collaboration Display provides the most premium quality audio and video and different softwares and services to remain connected.
Microsoft Teams is a software that incorporates chat, notes, and attachments for virtual meetings. There is available annotation, video conferencing, and collaboration mechanisms.
Microsoft Azure Digital Twins is a platform that makes an all-inclusive model of physical environments. Cloud database stores information from various IoT sensors.
Microsoft 365 is a comprehensive software that provides different Microsoft Office applications for better and more accessible work experience.
Stylish design
The edge to edge design makes it aesthetically superior and enticing, especially in a corporate work environment. The On-Screen Display(OSD) buttons are centrally located for a more conspicuous and accessible feature. The camera and IoT sensor hub are placed at the top of the display. The directional microphone receives sound from anywhere in the room.
Effortless device sharing
The built-in wireless casting is compatible with Windows and Android devices, and up to five devices can be connected at one time. TouchBack feature puts you in control to manage the content on screen either from the device or the display itself. This helps in group discussions or interactive training sessions to work more effectively.
The display can be split into two screens through a Picture by Picture(PbP) mode. From the five options available, the Windows collaboration display will feature two different devices. The two selected screens can be of any input, e.g., 1 USB-C + wireless 1 or HDMI + wireless 2.
Final Thoughts
The Windows Collaboration Display is your one-stop solution to all your remote work-related concerns. Not even COVID-19 should be a hindrance to your performance and progression! From office technology to managed print services, everything is in the palm of your hand. For more info, give us a ring at 707-445-3095 or 800-331-6672.