Distance Learning with the Sharp AQUOS Board
For many, homeschooling or remote schooling was never near our thoughts until the unprecedented Coronavirus (COVID-19) rocked the country.
Since the outbreak, many families have had to adjust their lifestyle to ensure that while playing their part in diminishing the spread of the virus a level of normalcy is maintained at home.
Shutdowns, due to the COVID-19 pandemic, have also forced school districts and other educational institutions to implement alternative ways to reach their student body.
Distance learning has become the most feasible solution to the current lock-down, and we couldn't agree more. With so many capable technologies available, this is definitely a good move. We've created a package with a few solutions for distance learning, with our top choice being the amazing Sharp AQUOS Board.
What is the Sharp 4K AQUOS Board?
The Sharp 4K AQUOS BOARD is an interactive display system designed with a hybrid digital touchscreen and pen input capabilities. The board features a very responsive 4K Ultra-HD touchscreen with Capacitive Touch and Palm Cancellation technology. Although other interactive whiteboards exist, we must say this device is a cut above the rest. Here's why.
Benefits of the Sharp 4K AQUOS Board
Portability
Like other interactive boards, the Sharp AQUOS is very portable and flexible. It can be used in any space and can be mounted or used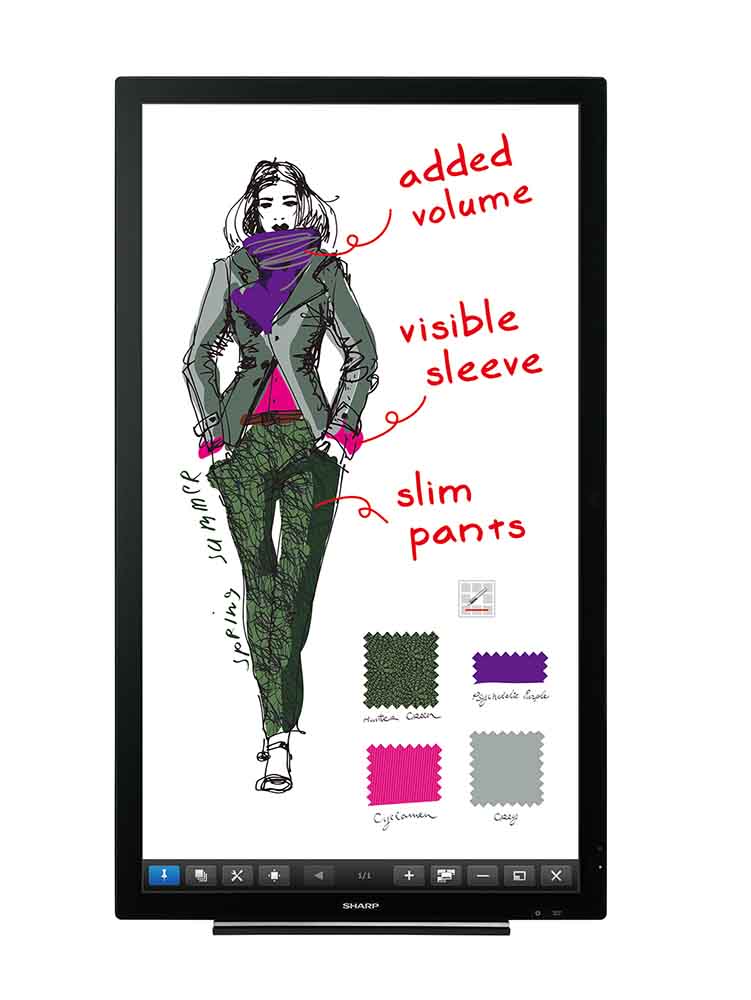 Unique Touch Capabilities
The digital board has one of the best palm touch features for a digital whiteboard. It incorporates infrared dual touch technology to ensure accuracy, providing premium usability and precision. It also allows for a unique pen-on-paper writing experience. The user-friendly pen software interface makes it easy for kids to operate. It has an easy launch and the settings can be easily adjusted to your liking.
Furthermore, unlike any other, it allows several users to "write" on the device at once. It also displays a dedidated menu for each touch pen, even when up to four people are writing on the screen at the same time. So, for example, pen settings such as color and line thickness can be set for each touch pen (with function buttons). This feature makes it perfect for interactive learning with teacher and student or parent and child using the same device.
HD Display
The display quality of this interactive whiteboard board is impeccably sharp. The sleek board comes with a large display, up to 80 inches (diagonally), and incorporates Sharp's V2A photo-alignment technology. This allows it to create brilliant color images, which children absolutely love. The board is also specifically designed to provide an even LED display of brightness across the entire panel, allowing you to have clear and legible text and images no matter what your lighting conditions are. When compared to a plasma TV, for example, the device is about 5 times brighter. But, even with all this, the AQUOS board is still energy-efficient.
Multi-Faceted Wireless Connection
Designed for smooth and effortless communication in a wide range of contexts, its built-in SHARP Display Connect1 software supports effective and multifaceted communication. The SHARP Display Connect software enables the AQUOS Board to connect with several wireless communication devices at once. In fact, you can connect up to 50 mobile devices simultaneously without any glitch.
Using wireless LAN, the board can connect to your tablet, smart phone, PC and laptop, your home or office printer and more. This device changes the way we interact as you can actually view AQUOS Board on-screen content and activity on all your connected devices at once in real-time. This includes handwritten notes, pen drawings, pictures, etc. On top of that, you can connect two AQUOS Boards on the same network (intranet, VPN, etc.) to enable larger-scale interactive communications.
In addition to this multi-screen display, you can wirelessly share files between your connected devices. This means you can also scan and print directly from your AQUOS Board, with compatible print devices. Documents and images can be scanned from a color-scan-capable Sharp MFP and imported directly to the AQUOS Board via the pen software. For added convenience, image data, drawings and annotations shown on-screen can be saved to a PC or sent directly to an MFP for printout.
From your connected mobile device, you can also screenshot on-screen display images, texts or drawings and save it to your device to make your own personalized notes and annotations. What's even better is that you can still share files between mobile devices even if they are not connected to the AQUOS Board. This wireless feature also allows you to control your AQUOS Board remotely using a mobile device.
With its supreme performance, convenience and user-friendly interface, it is clear that the AQUOS Board is built to facilitate highly interactive lessons without a clutter or mess.
Don't let COVID-19 stop you from educating your child. Make distance learning easy and fun with the Sharp AQUOS interactive board. For more info, you may call us at 707-445-3095 or 800-331-6672.